The TREASURES OF THE TIDES trilogy, a new blended genre series, mixes contemporary drama and historical adventure with the paranormal as it crosses back and forth through time, from the age of technology to the age of pirates.
For this poignant, swashbuckling adventure, Charlene Keel, an award winning author and screenwriter, has teamed with Charlie Most, owner and operator of Baltimore Steel Erectors, a major construction company in Maryland. When Charlie had a real-life ghost ship encounter off the coast of North Carolina's Outer Banks, he got the idea for the series.
♥
"I loved how the story went back and forth between two time periods and I especially loved Kate's story. I can't wait for the next book in the series."
—Linda Tonis, Paranormal Romance Guild
And readers on Amazon.com are saying:
"I couldn't put it down and had goose bumps reading the end."
"Loved the way the past and present came together."
"I would love to see this book developed into a movie…fingers crossed!"
"A story so riveting you will have to remind yourself it is based on true events."
---
Lost Treasures of the Heart
After architect Jonathan West learns his wife has been unfaithful, he goes fishing in North Carolina's Outer Banks, trying to figure out what to do about his marriage. He's shocked when he sees a ghost ship with a spectral woman on board. She's staring at him, a haunting plea in her eyes.
In an old sea chest that washes ashore, he finds a journal and a miniature portrait belonging to Kate Russell, captain of the Royal Thomas, which sank in 1721. It's the same woman Jonathan saw on the ghost ship, and her journal describes in her own words a life of piracy and sweeping romance. As past and present collide, he starts seeing her everywhere. He knows she wants something from him and believes if he can find a way to help her, her spirit will finally rest.
Lost Treasures of the Heart, a blended genre romance, combines contemporary and historical with the paranormal.
Excerpt:
Stepping out on the deck, he felt instantly refreshed.  There was a breeze coming off the ocean and it was the perfect time for a walk on the beach.  Wisdom pervaded at the last minute and he took a flashlight.  He had no idea how long he walked but he was vaguely aware of laughing softly to himself, delighted that he'd been victorious in opening the chest.  Then he had to blink away tears as he recalled parts of Kate's story.  Why had she delivered it into his hands?
And what did she want from him?
He knew she wanted something—that's why she had come to him.  If he could figure it out, maybe he could help her.  Then maybe her spirit could to rest.
At last, he returned to the beach house and to his work table, where he leafed through the ship's log once more, reading bits and pieces of it until his eyes grew heavy.  Taking the sea chest with him, he set it gently on the bureau in his bedroom, as if he could not bear to be parted from it.  He didn't think he would be able to sleep but he stretched out on the bed, on top of the spread, and closed his eyes, trying to envision what life was like for Kate on these barrier strips of land that were just barely protected from the ravages of the sea.
A little while later, something woke him.  He glanced at the spot where he'd placed Kate's little trunk.  Somehow during the night, it had fallen (or been placed, he thought) onto the floor.  It was open and he was stunned to see a bright light coming from it, pouring out of it and streaming upwards, toward the ceiling.  Amazed, he sat up slowly, scarcely daring to breathe.
The light, which had a perfect oval shape, was about the size of a full-length mirror.  Jonathan got up and went to investigate.  As he got closer, he realized it wasn't just a light.
It was a portal—and he could look through it, as if through an open doorway.  What he saw within was unbelievable.
Kate was there, in her ship's cabin, fully visible through the shimmering gateway.  She was sitting at a desk with candlelight flickering across her lovely features.  She was wearing a white linen nightgown and her long auburn hair fell past her shoulders in a waterfall of waves.  She was the most beautiful woman he had ever seen.
He watched silently as she wrote in the journal—that same journal he had found—with a quill pen.  Tears were streaming down her face and a tiny dog—a Chihuahua—was lying on her bunk, looking at her with concern.  As she was about to dip her feathered pen into the inkwell, she beckoned the dog to come to her.  Taking it in her arms, she whispered to it.
"There, there, my little Stewie.  I know I have you and my dear babe, who is the treasure of my life.  But it seems I am destined to be alone, with no husband nor even a lover to comfort me.  But there now—we'll be home soon.  I can only hope there is still a home to go to."
Why is she alone? Jonathan wondered.  What happened to Fournier?  Did he abandoned her, or betray her as her first love had done?
Involuntarily, he reached out to her.  To his astonishment, his arm went inside the portal and he saw the light from her candle reflecting off his hand.  He put his other hand in, and then his head and shoulders.  She looked up, surprised, and he could see she'd been crying.  Her need drew him to her and he stepped into the oval of light.
And he was in the captain's cabin, aboard the Royal Thomas, with Kate.
Without a word—for words were not necessary—he went to her.  She was so petite, and very young, not much more than twenty.  She looked up at him with such sorrow he could not bear it.  Trying to comfort her, he wrapped his arms around her.  Sobbing, she buried her face against his chest and he felt her pain, her loneliness.  Holding her close, he lightly stroked her back, inhaling the pure sweetness of her.  She looked up at him, puzzled, and then standing on tiptoe, she kissed his cheek.  Her innocence, her fragrant body against his, was a bliss unlike anything Jonathan had ever known, and he would have been happy to stay with her there—wherever there was—forever.
A bright, relentless sun blasting through the window woke him the next morning.  He was alone in his bed—and there was no light coming out of the open chest, which was back on the bureau where he'd put it.
It had been a dream.  He knew that.  He knew it was impossible to step through some kind of weird light, three hundred years into the past.  Sighing and rubbing his eyes, he came back to reality.
Just a dream.  Nothing more.
But when he got out of bed and put his bare feet on the floor, one of them landed on something sharp.  Something sharp on one end and soft and feathery on the other.  He looked down, puzzled, and logic flew out the window.
It was a quill pen—the pen with which Kate had been writing.  It was lying on the floor next to his bed, in his bedroom at the beach house.
---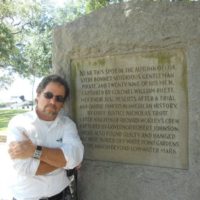 Charlie Most
The sea has always played a dominant part in Charlie Most's life. It seemed to be calling him, even as a child, bringing calm when he seemed intent on raising hell. As an adult, he channeled his restless energy into successfully running his construction company, Baltimore Steel Erectors. One moonlit night, while fishing in the Outer Banks off the coast of North Carolina, Most and his pals saw the silhouette of an ancient square-rigged vessel skirting across the horizon. They all watched as it disappeared once again into the Graveyard of the Atlantic, and the mists of eternity. That moment changed his life forever and he knew he had a story to tell. Lost Treasures of the Heart is his first novel.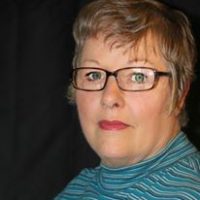 Charlene Keel
Charlene Keel has written over a dozen novels and how-to books. Shadow Train, the final installment of her YA supernatural trilogy, won a Paranormal Romance Guild Reviewer's Choice Award, and The Congressman's Wife (Red Sky Presents) is getting rave reviews.
Keel has also worked as editor for international magazines, including Playgirl, For the Bride and Black Elegance.  She says the most fun she's had as an editor (so far) was at Spice, a fanzine featuring rap, R&B, soul and gospel music. While there, she enjoyed going to parties for such notables as Puff Daddy, having lunch with Gloria Gaynor and attending a pasta dinner where Mariah Carey did the cooking (it was delicious!).
Social media links:
https://www.facebook.com/Lost-Treasures-of-the-Heart-111569205594625/
Twitter: @CharleneKeel
Facebook: https://www.facebook.com/charlene.keel.1