Amanda Bouchet's EXCLUSIVE POST about A Promise of Fire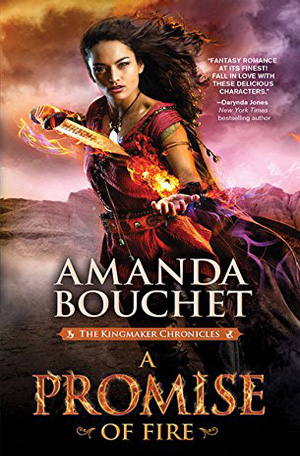 "If you're looking for a magical book with heart, romance, adventure, and characters who stay with you long after the book ends, try PROMISE OF FIRE. You won't be disappointed, unless you feel the wait is too long for book two! The Kingmaker Chronicles is sure to be a huge hit and well-worth the praise-worthy buzz it's already getting far and wide."–an RJ Recommended Read
AND WE'VE GOT 5 ARC COPIES TO MAIL OUT TO ANY U.S. ENTRANT! SIMPLY COMMENT ON THIS POST!
---
An exclusive post from Amanda Bouchet, author of PROMISE OF FIRE, an RJ Recommended Read!
Which character in A Promise of Fire are you most similar to? Why?
This is a difficult question to answer when the characters in A Promise of Fire live lives and have experiences so entirely different from my own! Thalyria, the world of The Kingmaker Chronicles, is steeped in magic and mythology. It's a place where Gods, men, and monsters can all collide in a shock of power, weapons, fangs, and fire. We have powerful mages, ruthless warlords, and vicious rulers—but we also have regular people trying to make their way in the world, and not-so-regular people trying to hide from it.
Catalia "Cat" Fisa, the heroine in A Promise of Fire, is a powerful magic-user with a smart mouth and big problems. She's the kind of fierce that comes from surviving brutality, knowing where to stick the sharp end of a knife, and facing off with terrifying queens and fire-breathing dragons. Not to mention that she can more than hold her own against a powerful and ambitious warlord who needs her for her unusual magic—but wants her for so much more. Spunky Cat fights hard and never, ever gives up, especially when it comes to protecting the people she cares about. She's hot-tempered and tough. And, while I'd love to say I'm feisty and ferocious like Cat, there's a lot in her personality that doesn't necessarily mirror my own.
Griffin, the hero in A Promise of Fire, is a strong and charismatic warlord with big plans for the future—and good—of Thalyria. He knows what he wants and focuses on it like a predator. Intensely. He shatters Cat's illusion of safety and permanently disrupts her life on the run when he uncovers her posing as a soothsayer in a traveling circus and then wants her to use her coveted magical powers to help him achieve his goals. He's magnetic, can be very convincing, and uses everything in his incredibly tempting arsenal to win Cat over—good arguments, strong values, and scorching kisses! While fair and levelheaded, he's also an alpha male through and through. Griffin can be ruthless, violent (though never gratuitously), and domineering—so not exactly me, either.
Life in Thalyria definitely isn't a walk in the park, and both of the main characters can be aggressive, sometimes hard, and often stubborn. But their harsher traits are tempered by characteristics I hope make them worthy of the reader's time and respect. They're both less than perfect, but they also have an enormous capacity for empathy, are selfless and protective of others, loyal almost to a fault, capable, concerned with the greater good, and show a good deal of humor, tolerance, and determination.
So which character am I most similar to? This answer may be cheating on the question a little bit, but I think I fall somewhere in between Cat and Griffin, where their two personalities converge on things like the importance of trust and loyalty, resolve, and compassion. Without it being a conscious effort, I suppose it was natural to weave into my main characters' lives and personalities values that are important to me, and which I try (hopefully mostly successfully!) to integrate into my daily life. That said, like Cat and Griffin, I'm more than rounded out with characteristics I'd love to improve upon!
If I have to pick one character I'm more similar to, though, I'll have to go with Cat simply because I'm completely on board with her delectable choice in men!
A Promise of Fire by Amanda Bouchet

Kingmaker Chronicles, #1
Pubdate: August 2nd, 2016
ISBN: 9781492621898
KINGDOMS WILL RISE AND FALL FOR HER…
BUT NOT IF SHE CAN HELP IT
Catalia "Cat" Fisa lives disguised as a soothsayer in a traveling circus. She is perfectly content avoiding the danger and destiny the Gods—and her homicidal mother—have saddled her with. That is, until Griffin, an ambitious warlord from the magic-deprived south, fixes her with his steely gaze and upsets her illusion of safety forever.
Griffin knows Cat is the Kingmaker, the woman who divines the truth through lies. He wants her as a powerful weapon for his newly conquered realm—until he realizes he wants her for much more than her magic. Cat fights him at every turn, but Griffin's fairness, loyalty, and smoldering advances make him increasingly hard to resist and leave her wondering if life really does have to be short, and lived alone.
Buy Links:
Award-winning author Amanda Bouchet grew up in New England and studied French at the undergraduate and graduate levels. She moved to Paris, France, in 2001. Her first novel, A Promise of Fire, won several Romance Writers of America chapter contests, including the Orange Rose Contest and the paranormal category of the prestigious Golden Pen.
TO ENTER TO WIN A PRINT ARC OF A PROMISE OF FIRE, SIMPLY COMMENT ON THIS POST. TELL US WHY YOU LOVE FANTASY ROMANCE!