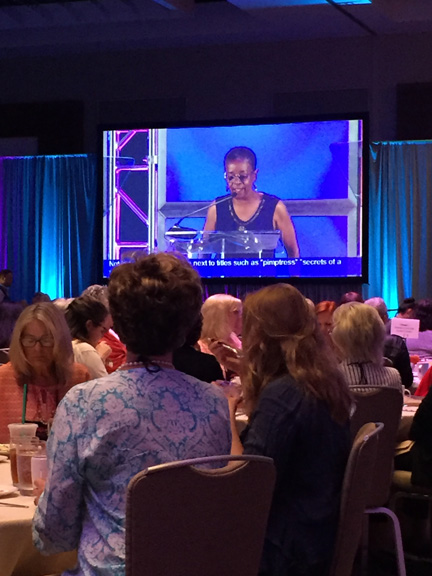 So I spent five incredible days in San Diego this past week at the 2016 National Romance Writers of America convention. Talk about fun…and a lot of walking. The Marriott was huge. Getting from my room in the South Tower to the ballroom area where most events and classes occurred was a real stretch. And don't even get me started on the goodie room. But the real fun in the conference was meeting new people. Oh, and also seeing my roommate nearly punch out a key speaker…
---
RWA holds a yearly convention where all those in the romance industry come together. Authors, readers, agents, publishers, reviewers, you name it, those in the world of romance books are mingling and learning. There are daily workshops and book signings aplenty. You will be happy to note I gathered tons of autographed books just for all you RJ readers. I mean, tons. Sylvia Day? Got her. Jill Shalvis? Her too. Beverly Jenkins, Rebecca Zanetti, Susan Wiggs, Elizabeth Hoyt, you name it. We're going to be giving away a ton of books in the coming weeks and months, so keep stopping by the blog! I'm going to start our daily giveaways just as soon as my roommate ships the boxes back to me. (No way I could carry all those on the plane.)
So a bit about the conference. This year it was held at the Marriott Marquis & Marina Hotel in San Diego, California. Gorgeous place with even better views. This was the view from my hotel room.
Then of course, we had some outstanding panels and signings. Here's a picture of the amazing Beverly Jenkins at her keynote luncheon address. A terrific writer and speaker.
I'm only sorry I didn't get a photo of Sherry Thomas (Saturday's keynote speaker.) Her speech really impacted me, as she discussed what it was like to move from China and learn the language, then get used to dealing with postpartum depression on her journey to finding her place in the world of writing romance. Stellar speaker, truly. I'm currently reading one of her books, as a matter of fact, since she and her publisher so graciously gave us all a copy at the luncheon.
Alas, I missed the awards ceremony hosted by NYT bestseller Roxanne St. Claire (the awards ceremony emcee). I was really tired, had decided I'd just take a short nap after dinner before heading to the ceremony. And bam. Woke hours later, missing everything. However, I do have a funny story about Roxanne. My roommate and I were walking back from a workshop when loud roomie opens up her arms, gesticulating wildly while regaling us with a story that made me laugh. I can't remember it now, because good old roomie shot her left fist a half inch from Roxanne St. Claire's jaw. Only Roxanne's swiftness (and a lot of luck) saved her from having some bruises while hosting in front of hundreds.
Anyhow, I had a blast at all the signings. Here are a few talented women with Sourcebooks. Asa Maria Bradley, a twice-nominated RITA finalist.
The incomparable Nora Roberts (as introduced by Ruth Ryan Langan). She gave an awesome Q&A session in her Chat with Nora workshop. And her shoes and purse were fab, too, completing the ensemble. So classy, and still telling it like it is. Long live Nora.
The lovely Caridad Pineiro, who always wears an engaging smile. (Did you know she's sold over 1 million books?!?)
There were so many wonderful authors. I don't have room to show them all, though I posted quite a few shots of the Sourcebooks authors on our Facebook page. (I had an insider ability to take shots since I write for them too!)
Okay, so here I am looking somewhat presentable signing a book for Melissa.
The food was great, both in the hotel and without. There were some huge lines to get said food, but that's to be expected of the Cheesecake Factory anyway, right? *grin* Here are some happy campers eating up at the breakfast buffet before our morning workshops.
The city was beautiful. So let me show you a few shots of sunny San Diego as well.
Lots of fun in a city that's full of sun…and for a time, romance writers. Just as we bug out, they're gearing up for Comic-Con next week. So close, and yet so far.
So that's a short recap of #RWA2016. Great times, and I hope to attend next year–fingers crossed–in Orlando. Disney World and romance–what's not to love?