Between Bloode and Craft Vampire Romance & #Giveaway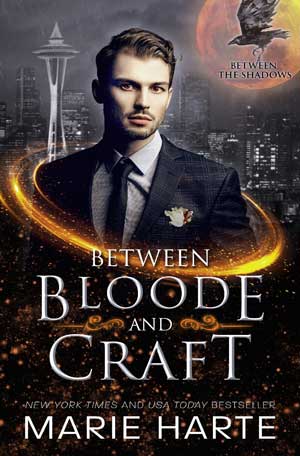 A brand new standalone vampire romance from NYT bestseller Marie Harte! Find it at Amazon and in Kindle Unlimited.
A dark grimoire.
An enterprising witch.
One very annoyed vampire.
Once the enchantment ends, the witch will pay. With her life, or her love?
And check out the print giveaway below!
EDIT: Winner Announced! Eva M.
---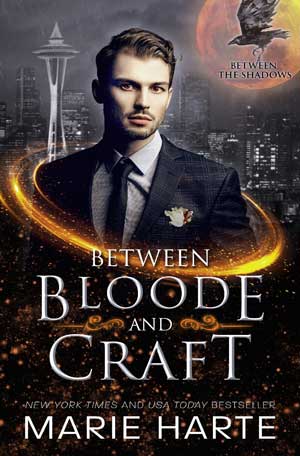 Between Bloode and Craft
Between the Shadows 2
Amazon KU
Duncan has lived for over two hundred years. As a vampire, he's aware there is very little that can do him harm. Certainly not a sexy young witch he thought he'd seduced. Even worse, he learns she's in possession of a grimoire that has the ability to end all vampires. Forever. Tasked with finding the spellbook, he'll do whatever it takes to destroy it, and he'll take pure pleasure in devouring her…
Macy had no idea she'd ensnare herself by using the grimoire. She found it accidentally. She thinks. Except lately, she keeps using it, even when she's not sure she wants to. When Duncan captures her, the book disappears, and her neck is literally on the line. She can't find the book. He doesn't believe her. And then there's that weird demon guy who wants it too.
With few options left, Duncan uses all his wiles to persuade Macy to give him what he wants. But somehow, he finds himself wanting her more than the book. And when it turns out she has a special connection to him and his kin, it's all he can do not to claim her for his own. But doing so might send him straight to Hell, eternally tortured, with the end to everything he holds dear.
Available:
Excerpt:
Macy wasn't a morning person, but later today would be especially awful on just a few hours of sleep.
She stared at the bright moon dancing with the shifting clouds and again wondered what she hoped to accomplish at the end of it all. Did she really think she'd be able to nail down Duncan's whereabouts? Would she get him to confess his intentions for being in the city? Did she think she could continue to toy with an ancient grimoire without consequences?
Her eyes grew droopy, and she yawned, still pondering her future.
It could have been seconds or hours later when someone whispered into her ear, "You've been a naughty witch."
She started but couldn't move, a solid body pressing against her from behind. She lay on her side, spooned by an angry vampire who made her tremble from dread and a crazy sense of excitement. There is something seriously wrong with me. Oh, of course. I'm not awake.
Relieved to be in a dream, she smiled and said aloud, "I'm dreaming."
"Yes, keep telling yourself that." 
"Right. So, well, why are you here?"
He chuckled and nipped her ear, playfully. Not drawing blood, she hoped. "Where's the grimoire, Macy?"
She pretended ignorance, her heart racing. "Grimoire? I'm a second class witch. I don't use a grimoire."
"Try again." He shifted her hair away from her neck and pressed soft kisses along the column of her throat.
Hmm. This didn't feel like a dream.
Her breath hitched, and arousal mixed with fear. Crap. Then something occurred to her. He lay in her bed with her. In her room. He had bypassed the magical wards she always used to shield the house. Duncan had full access to her things, yet he hadn't found the grimoire?
It should have been in her spell room in the basement.
She didn't want to bring attention to her hiding place, but now she had to know. Had he searched and not found it? Or had someone else stolen it when she'd been out?
The idea enraged her on a level she shouldn't be comfortable with. Yet, it belonged to her!
Between one breath and the next, Duncan had her flat on her back under him, and her fury transitioned into something warm and fuzzy. Into something hungry.
"Where is it, Macy, luv? Where's the grimoire?"
Staring back into blood-red eyes, she wanted nothing more than to please him. Though she knew she shouldn't trust him, she did and smiled. "It's in my spell room in the basement."
He frowned. "Come, show me." He lifted her in his arms and gently set down, her feet on the floor, giving her a generous onceover. "Love the nightie."
She flushed. The overlarge tee-shirt showed the body of a hairy gorilla. A past birthday present from Cho. "It's cute."
"Night willing you're not that furry," he muttered and nudged her to precede him.
"I'm not. I shave because I like when my skin feels smooth."
He chuckled. "And isn't that a loaded statement. Onward, girl. Show me the book." He put a hand on her shoulder from behind, steering her down the steps.
She didn't think she should like it, but she enjoyed feeling his control.
So strange.
Once in the basement, she waved a hand, muttered an incantation, and let the magical shields drop and the lanterns turn on, illuminating the small space. A kind of office, the stone floor and wooden walls encased the room in earth. Nothing artificial in the space, just dirt, rock, wood, and the element of air filling the emptiness.
She had a cauldron in the corner on a wheeled dolly for ease of movement. Shelves along the wall were filled with herbs and ingredients for mild potions. Books upon books filled the far wall from floor to ceiling. A small, built-in alcove held a statue of Hecate, bordered by foxglove and wolfsbane and two beeswax candles to which she'd added witchbreath and a touch of lavender for scent as well as purification.
She muttered a blessing to Hecate, and despite the presence of danger at her back, Macy felt at home. Welcome.
"I was already in here," Duncan said, his voice tight.
She frowned. "It's right there." The grimoire sitting on the center altar—a converted circular bar table with a dark cloth draped over it ending in dangling beads with the occasional crystal or power gem embedded in the silken lace—shimmered and vanished. "What the heck?"
"What?" Duncan glanced around. "Where is it?"
"You didn't see that? It was right there. Then it vanished." She walked to the table to study it, seeing nothing of the grimoire that had just been there. Even its odd, smoky scent had disappeared. "I don't understand." She turned to him. "Is this some kind of tease? You steal it then punish me anyway?"
"A brilliant idea, but no." He turned to her wearing a menacing expression.
She blinked and was somehow in his arms, off her feet, her back against the wall when just a second ago they'd been standing in the middle of the room.
He stared into her eyes once more. "You want to give me whatever I want, don't you, sweetheart?"
"I do." She wished desperately to help him. Then a thought struck her, and she smiled. "I know what you want."
Duncan nodded, seeming pleased. His chiseled jaw eased, not clenched so tight, and his firm lips quirked into a beautiful smile. "That's a girl. Now where is—"
She yanked his mouth to hers and gave him the kiss she knew he wanted.
Giveaway:
To enter to win* a print copy of Between Bloode and Stone, simply comment below. What's your favorite paranormal character? Vampire, lycan, witch, etc. Good luck!
*print copies mailed US only
About the author: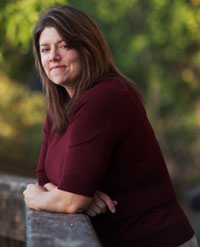 Caffeine addict, boy referee, and romance aficionado, New York Times and USA Today bestselling author Marie Harte has over 100 books published with more constantly on the way. She's a confessed bibliophile and devotee of action movies. Whether hiking in Central Oregon, biking around town, or hanging at the local tea shop, she's constantly plotting to give everyone a happily ever after. Visit https://marieharte.com and fall in love.