BJ Daniels--Into Dust
Comments Off

on BJ Daniels–Into Dust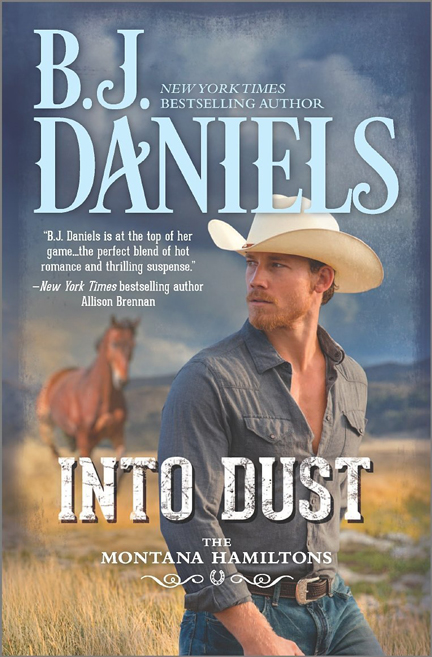 A Q&A with B.J. Daniels – Into Dust
---
Welcome to Romance Junkies, BJ. Thanks for agreeing to give us some questions and answers.
1. Can you bring us up to speed with the characters in Into Dust?
Hamilton daughter Cassidy hasn't been home to the family ranch in months. To escape the notoriety of her father running for president, she took off to Europe after college and graduate school and is now in Texas. She thinks no one knows who she is until someone tries to abduct her off a Houston sidewalk.
Tall, dark, sexy cowboy Jack Durand rescues her, but he knows more about the kidnapping attempt than he is admitting. Forced on the run, the two try to unravel a complicated family secret, exposing a diabolical plot years in the making that will either tear them apart or bring them together forever.
2. Is there anything in your new release based on real life experiences or purely all imagination?
I've never been kidnapped off a Houston sidewalk by a handsome cowboy, darn it. But I do love a good mystery. And my imagination always runs wild!
3. The Montana Hamilton's series always have beautiful covers, which one would you say is your favorite if you had to pick one?
It is really hard to pick because I have loved all of the covers. I'd have to say the INTO DUST cover is my favorite though. There is something about this cowboy that resonates with me.
4. What is one thing you absolutely need while writing?
Coke Zero. But I also need peace and quiet. I've been working a lot this summer at the lake. There is NO internet, NO television, hardly any cell phone service. It is VERY quiet, no one around. I can just sit and look at the lake and write to my heart's content.
5. What made you pick Houston, Texas as the city Cassidy runs to as an escape?
I was born in Houston so it was nice to go back there if only in my book. Also I have an older brother who is buried there so when I was writing the cemetery scene I was thinking of that.
6. What was the first romance novel that you ever read?
The Flame and the Flower. I was so hooked.
7. Without giving away too much, what's your favorite scene in Into Dust?
It would have to be the hospital scene. I can't say much about it but I like the idea of two ships passing in the night, missing each other, not even aware that the other is there. That sort of thing. Sorry, you have to read the book to see why.
8. Where have you traveled to and how has this informed your novels?
I've traveled quite a lot. I think it makes you appreciate what you have at home. At least it does for me. Montana is like another character in my books. It's wild country in a lot of the state, dangerous, isolated, harsh at times. It is not easily tamed – just like a lot of characters.
9. What are you working on now? What is your next project?
I'm very excited about my next project. After INTO DUST, there is the final book in the Montana Hamilton series, HONOR BOUND. It is Ainsley Hamilton's story but also all the loose ends are tied up in the series.
With that book finished, I am now working on a new series set in the center of Montana with a whole new fun family. Cahill Ranch is a 6-book series about a family who live under a constant threat. The Cahills are a strong, determined Montana family who will fight together to keep their lifestyle.
I'm having a ball with the Cahills and hope readers will too.
10. Any fun summer plans?
I am spending as much time as I can at the lake this summer with family and friends visiting on the days I'm not writing. I have 10 grandchildren and eight of them were at the house over Father's Day. There was lots of swimming, boating and BBQing!!! So a summer mix.
Thanks for stopping by, BJ! And to read more about BJ Daniels, check out her website here.