Carolyn Brown: THE EMPTY NESTERS Interview
Comments Off

on Carolyn Brown: THE EMPTY NESTERS Interview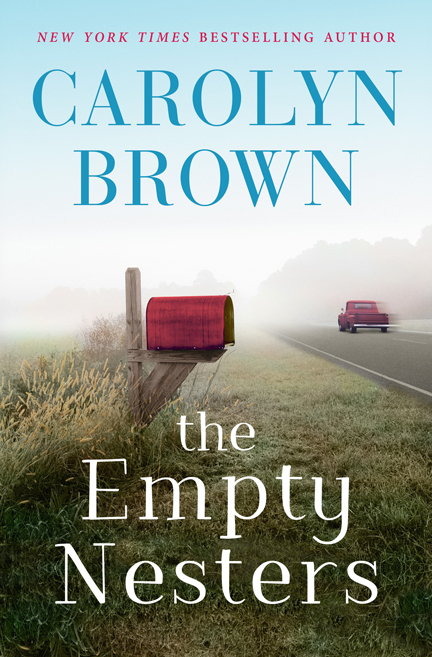 An interview with Carolyn Brown, author of THE EMPTY NESTERS. In THE EMPTY NESTERS, dear friends and army wives Diana, Carmen, and Joanie have been through war, rumors of war, marital problems, motherhood, fears, joy, and heartache. But none of the women are prepared when their daughters decide to enlist in the army together. Facing an empty nest won't be easy. Especially for Carmen. With emotions already high, she suffers an even greater blow: divorce papers. Diana understands the fury and tears. She's been there…
---
Carolyn Brown Interview
1) Your newest book, The Empty Nesters, takes on some difficult subjects — including saying goodbye as a child leaves home. This translates into an incredibly emotional read. What prompted you to want to write about this time in your characters' lives?

Personal experience is what made me write this book. My husband and I had three children within five years. We were very young when we started our family, and that meant we were in our forties when we suffered from the empty nest syndrome. I remember that hallow feeling when our last child got married and traveled all the way to Philadelphia with her husband who was in the navy. I knew I wasn't the only woman to ever experience all those emotions, so I wrote The Empty Nesters in hopes that it would help women to understand that there is life on the other side of the empty nest. There could be a new love waiting, an old love to fall in love with all over again, or a new project just waiting for them.
2) A lot of books focus on the men going off to war, but you choose to write about the military wives left behind. Do you think readers that find themselves in similar situations will be surprised to see their lives front-and-center in a story?
I sincerely hope so. Military wives need to have their stories told, to be recognized for their sacrifices, and for their undying support.
3) Diana, Carmen, and Joanie are three of the most loving and loyal women you have ever written! What makes this group special to you?
I've had friends like those three—who have stood by me in good times and bad times, and who have supported me no matter what crazy journey I might want to go on, proving that family doesn't always mean that the DNA matches. This group was especially special because they were absolutely real in my head as I wrote their stories. I cried with Carmen when she got the divorce papers. I agonized with Diana over what she'd gone through with her divorce, and I felt the angst with all of them as they waited for the first letter from their daughters. They even woke me up at night to fuss at me if I got their part of the story wrong, and believe me when I say, I fixed it the first thing the next morning.
4) Where many novels may glance over a character's flaws, you let the people in your books just be themselves — faults and all. How do your fans respond to this type of reality in their fiction?
So far my fans have loved reading about "real" people—those characters they can relate to and visualize as the folks that live next door to them, or maybe even as one of their relatives.
5) While each character is entering a new phase in their life, Diana has something exciting on the horizon — a new flirtation with a younger man! Tell us a bit about Diana and Luke and what made you decide they might be a good fit.
Tootsie was actually the first character in the book that popped into my head. She told me all about her nephew and the military wives that lived on her block. To me, it was a no-brainer. Luke needed Diana in his life, and now that her daughter was gone from the house, she needed someone in her life. All I did was let Tootsie introduce them. They did the rest.
6) What's next for you?
I just finished writing the seventh cowboy book in the Longhorn Canyon series, and now I move on to write another romantic women's fiction that I'm very excited about. 
On the publishing horizon, my readers can look for: 
Christmas with a Cowboy, Sept. 24
The Family Journal (my 100th novel), a women's fiction, November 12
Cowboy Courage, Jan. 28
Wildflower Ranch (a novella), Feb. 4
Title: The Empty Nesters
Author: Carolyn Brown
Release Date: August 20, 2019
Publisher: Montlake Romance
Dear friends and army wives Diana, Carmen, and Joanie have been through war, rumors of war, marital problems, motherhood, fears, joy, and heartache. But none of the women are prepared when their daughters decide to enlist in the army together. Facing an empty nest won't be easy. Especially for Carmen. With emotions already high, she suffers an even greater blow: divorce papers. Diana understands the fury and tears. She's been there.
With nothing to lose and no one at home, the girlfriends impulsively accept an unexpected offer from their elderly neighbor. The recently widowed Tootsie has an RV, a handsome nephew at the wheel, and an aim for tiny Scrap, Texas, to embrace memories of her late husband. Still grieving, she can use the company as a balm for her broken heart. So can the empty nesters.
Embarking on a journey of hope, romance, and healing, Diana, Carmen, and Joanie are at a turning point in their lives. And with the open road ahead of them, it's just the beginning.
♥
Carolyn Brown is a New York Times, USA Today, Publisher's Weekly, and Wall Street Journal bestselling author and a RITA finalist with more than ninety published books. Her genres include romance, history, cowboys and country music, and contemporary mass-market paperbacks. She and her husband live in the small town of Davis, Oklahoma, where everyone knows everyone else, knows what they are doing and when…and reads the local newspaper every Wednesday to see who got caught. They have three grown children and enough grandchildren to keep them young. Visit Carolyn at www.carolynbrownbooks.com.
Social Media Links
Rafflecopter Giveaway