Christi Caldwell Exclusive Interview!
Comments Off

on Christi Caldwell Exclusive Interview!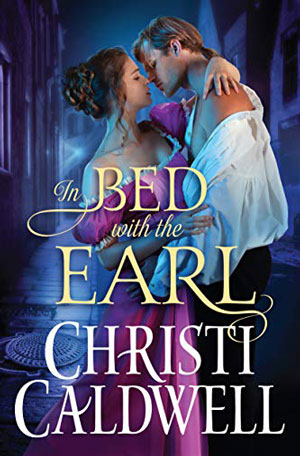 Exclusive Interview: Author Christi Caldwell!

Author of IN BED WITH THE EARL.
To solve a mystery that's become the talk of the ton, no clues run too deep for willful reporter Verity Lovelace. Not even in the sewers of London. That's precisely where she finds happily self-sufficient scavenger Malcom North, lost heir to the Earl of Maxwell. Now that Verity's made him front-page news, what will he make of her?
---
CHRISTI CALDWELL
1) Name a book you've re-read more than three times. What keeps you coming back for more?
The Secret by Julie Garwood is one of my favorite all-time books. Ms. Garwood just painted such beautifully complex characters, and there's soooo much emotion packed into those pages. I never tire of reading it!
 
2) What book do you wish you could live in and why? 
Oohhh…great question! Absolutely Outlander. The characters' ability to move between past and present is so uniquely done, and would allow me to experience various moments and places in history…and as a former history education major and teacher, it checks all my boxes! 😉

3) What are three things on your bucket-list? 
Funny thing that…I recently wrote a book about a Regency heroine with a bucket list…The Spinster Who Saved a Scoundrel…and as I plotted and then wrote, I thought so much about this question. For me, all three would revolve around travel because there's so much of the world I want to see: I want to rent a cottage in the English country and just immerse myself in a story. I want to explore Paris. And I want to get lost in the Highlands of Scotland. Alas, having three little ones, travel is limited for now! Someday!
4) If you aren't writing (or reading!) what can you be found doing the most?
Squiring my little ones about! I have three children; a little boy with Down syndrome and twin girls! So much of my day is spent traveling around the state for therapies and doctors appointments and a couple of years ago, my girls began riding horses while their brother has horse therapy…and it is one of my favorite parts of the week! Horses are such magnificent creatures.
5) You have just sat down to start writing for the day. What does your workspace look like?
LOL Which day?? I don't have any one place. I have an office, however, I've often preferred writing on my couch (as long as the kids are at school and the house is quiet!) I've recently begun writing at Starbucks. I use a pair of noise-cancelling headphones, but love it because you're really forced to think about why and when you get up, and I found my word count is so much more productive!
6) Can you tell us a little about In Bed with the Earl?
Sure! My Lost Lords of London series features heroes who'd been kidnapped as children, who are reclaiming their rightful place among the glittering world of London society. The idea for book 1, In Bed with the Earl came to me after I'd been the victim of a plagiarist. The situation happened when I was on deadline, due to start a book. There was something so violating and hurtful in finding my words from another book had been written…and one day, I decided to take that emotion and what I was feeling…and put it into a story. 
Verity is a mature heroine, whose been responsible for the care of her beloved family. She's a reporter, who wants to write the stories she wants to write, but is tasked with finding a lost lord and telling that story. The hero is a tosher…or sewer scavenger (think, the Thernardiers from Les Miserables but sexy!) 😉  The last thing he wants is to share his story. But of course, the heroine has her reasons for needing it from him…reasons that have to do with caring for her family, and as so many of us know, when it comes to those we love, we'll do anything for them.
7) What will readers have in common with Verity?
Verity is a reporter. A woman of strength and talent, and yet who is continually having to fight for a better place and better pay at her workplace. She loves fiercely and is completely devoted to her family and their happiness and well-being, and as a result, I feel many readers might connect with both her professional aspirations and frustrations, as well as her personal ones, too.
8) Why will readers fall in love with North?
As the author, I fell in love with Malcom for so many reasons. I mean, he's been scavenging sewers since he was a boy, and has built a life of his own for himself, despite the horrible thing that happened to him. He's gruff and rugged and very human and raw, and as I fleshed him out and told his story, I just fell head over heels for his character. I hope readers feel the same for him. 
9) What was one of your favorite scenes in In Bed with the Earl to write and why?
Their first meeting…I won't say too much, but everything about it was and is unconventional; where it takes place. Why it takes place. There was an element of suspense as I wrote it, and imagined myself, in the sewers, like Verity…! 😉 No more spoilers, I promise!
10) What are you working on next?
I'm just finishing up a Heart of a Duke installment…my Heart of a Duke series offers a glittering look at London high society, but the lady in my current work-in-progress is going to fall for a childhood friend, who is bastard-born, and a self-made man! When I finish up their tale, I'll begin my next series for Montlake. Details coming soon!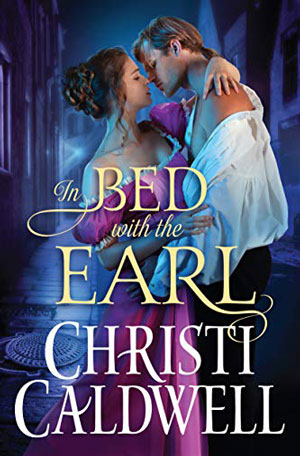 About the Book
Title: In Bed with the Earl
Author: Christi Caldwell
Release Date: March 17, 2020
Publisher: Montlake
To solve a mystery that's become the talk of the ton, no clues run too deep for willful reporter Verity Lovelace. Not even in the sewers of London. That's precisely where she finds happily self-sufficient scavenger Malcom North, lost heir to the Earl of Maxwell. Now that Verity's made him front-page news, what will he make of her?
Kidnapped as a child, with no memories of his well-heeled past, Malcom prefers the grimy spoils of the culverts to the gilded riches of society. Damn the feisty beauty who exposed the contented tosher to a parade of fortune-hunting matchmakers. How to keep them at bay? Verity must pretend to be his wife. She owes him.
The intimacy of this necessary arrangement—Verity and Malcom thrust together in close quarters—soon sparks an irresistible heat. But when the charade ends, the danger begins. Will love be enough to protect them from a treacherous plot devised to ruin them?
USA Today Bestselling, RITA-nominated author Christi Caldwell blames Julie Garwood and Judith McNaught for luring her into the world of historical romance. While sitting in her graduate school apartment at the University of Connecticut, Christi decided to set aside her notes and pick up her laptop to try her hand at romance. She believes the most perfect heroes and heroines have imperfections, and she rather enjoys torturing them before crafting them a well deserved happily ever after!
Christi makes her home in southern Connecticut where she spends her time writing her own enchanting historical romances and caring for her three spirited children!
Rafflecopter Giveaway