Come Back to Me by Sharon Sala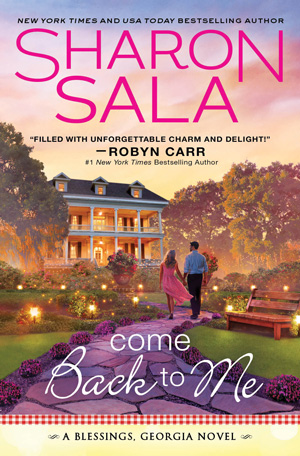 "Sharon Sala's Blessings, Georgia series is filled with unforgettable charm and delight!"— ROBYN CARR, #1 New York Times Bestselling Author
In Sharon Sala's COME BACK TO ME, after a devastating fire pitted their families against each other, high school sweethearts Phoebe Ritter and Aidan Payne were torn apart. Twenty years later, Aidan is called back to Blessings, nervous about confronting his painful past. And that's before he knows about the nineteen-year-old secret Phoebe has been harboring all this time…
---
Love always endures the test of time
After a devastating fire pitted their families against each other, high school sweethearts Phoebe Ritter and Aidan Payne were torn apart. Twenty years later, Aidan is called back to Blessings, nervous about confronting his painful past. And that's BEFORE he knows about the nineteen-year-old secret Phoebe has been harboring all this time.
As Aidan tries to make up for lost time with the family he didn't know he had, Phoebe and Aidan rediscover long-suppressed feelings. But the past won't lie buried, and old enemies threaten to destroy the peace they've fought so hard to find.
BUY
EXCERPT
Aidan was carrying a suitcase to their car when he heard the sound of running footsteps. He looked up to see Phoebe coming toward him. Her face was red like she'd been crying and her long brown hair was in wild disarray. The sight of her appearance now, after all he and his family had endured alone, both hurt and angered him. He shoved the suitcase into the trunk and headed back inside.
            "Wait, Aidan, wait."
            He stopped, then slowly turned to face her.
            "What are you doing here?"
            Sunlight momentarily blinded her as she looked up. She blinked rapidly to clear her vision, then looked up again, searching his face for a sign that he was glad to see her, and saw nothing but hate and disgust.
            Her heart sank.
            "Please don't go."
            Aidan's body language was one of defiance. The tone of his voice held nothing but disdain.
            "The only thing that matters to me here, is that I'm leaving my mother behind. Her death broke what was left of my father's heart, and your family destroyed his reputation. We can't get out of Blessings soon enough for me. Go home."
            Phoebe started to shake. This was really happening. She was losing Aidan forever.
            "I'm sorry. I'm so sorry," she said. "Please don't be mad at me! I know your father is innocent."
            He turned his back and walked into the house.
            Despite the sweat running down her back, she suddenly shivered. She'd never seen him like this – cold and shut down, but she couldn't leave. She stood on the sidewalk waiting, half-blind with tears as he and his father come out of Preston Williams' house together.
            Preston gave each of them a last hug, and then stood on the porch as they headed to the car.
            Preston saw her, but didn't acknowledge her.
            George glanced at her, started to speak, and then shook his head and slid into the driver's seat.
            Aidan put the last of their things into the trunk and slammed it shut.
            "I'm sorry, Aidan," Phoebe said.
            He didn't look at her as he got into the car.
            George started the engine.   
"Please! You have to forgive me," Phoebe cried.
            George put the car in gear and backed out of the drive.
Phoebe started running down the driveway after them. "Come back! Come back! Please, Aidan, come back to me!"
            Aidan glanced in the side mirror outside his window, startled to see her running behind the car. But they were going faster, and her image was growing smaller and smaller. The last sight he had of her before they turned the corner, she was on her knees in the street, her hands covering her face. The pain in his chest was so great he thought he would die.
            He took a slow, shaky breath and looked away.
GIVEAWAY