Dark Queen by Faith Hunter RECOMMENDED READ!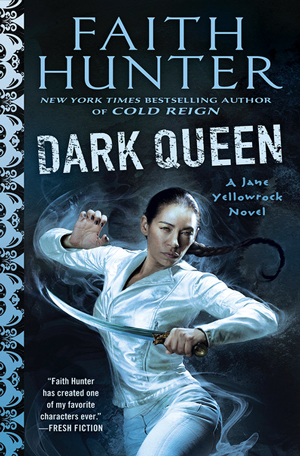 DARK QUEEN by Faith Hunter, part of the Jane Yellowrock series, gets a Recommended Read from our reviewer SJ. This is a truly outstanding piece of urban fantasy we can't recommend enough! 
---
DARK QUEEN is the twelfth book in the Jane Yellowrock series. This is sophisticated urban fantasy with detailed world building and in depth characters. It's best to read the books in order so as not to miss the nuances of growth and the subtle interweavings of ever changing relationships.
Faith Hunter always entertains. DARK QUEEN is heavy on action and intrigue, and Jane continues to develop as one of the most fascinating characters in fiction today.
In this installment, Jane, with the trusty help of her partners–men she thinks of as family–and her security crew, assist the Master of City of New Orleans, vampire Leo Pellissier, in his challenge against the European vampires. There's plenty of twists and turns in the plot, but one of the most interesting is the introduction of Ayatas, a man who claims to be Jane's brother.
Jane's history has been shrouded in mystery, even from herself, throughout the series. In this book the reader learns more about her past, who she is, and what she's been through to get to where she is now. Beast, Jane's inner cat, continues to amuse while also taking center stage at the appropriate times. 
The stakes are high, no pun intended, as Jane does her best to help save everyone, at great cost. The book ended on a, not cliffhanger, but possibilities. I can't wait to read the next book to see what happens. 
For a fast-paced, intricate, magic-filled plot filled with complex characters who bring out the best in a protagonist that keeps getting more interesting with each page turn, check out DARK QUEEN by Faith Hunter. Fans of the series will be blown away. You won't be disappointed! 
RECOMMENDED READ