Don't Miss Tawna Fenske's KILLER INSTINCTS! It's Killer Good!
What reviewers have to say about Tawna Fenske's KILLER INSTINCTS:
"Only Tawna Fenske could make a hitman so adorable and sweet and yet deadly!" -Laurie Anne, Goodreads
"Laugh out loud funny, morally grey assassins with a heart of gold and small-town love!" -Nikki's Book Nook
"Killer Instincts was action-packed and kept me turning the pages. Dante and Jen's red-hot chemistry was sweet and addicting." -Late Night Luna Reads
"I'm trying to find a stronger word than loved to express just how I felt about this book." -Sharon, Goodreads
---
KILLER INSTINCTS (book 1)
Releasing April 7, 2022
He's a hired gun. A hardened killer. So how'd he end up bottle-feeding lambs for his best friend's sister?
Dante didn't set out to deceive. His favor for a pal in prison got him this farmhand job, and Jen needs help guarding more than her blueberries. Someone's set on hurting her, and he'll make damn sure they don't. She can't know who sent him or why he's handier with a handgun than a hoe. But none of that matters more than keeping Jen safe.
To save the girl, he'll have to pair old skills with new. A princess tea party and an old-fashioned gunfight? Why not. Grape stomping and grenades? Sign him up.
But as the enemy closes in, there's one skill Dante finds he doesn't have: The strength to walk away when the job is done.
BUY
And for the FREE prequel novella, check out KILLER LOOKS!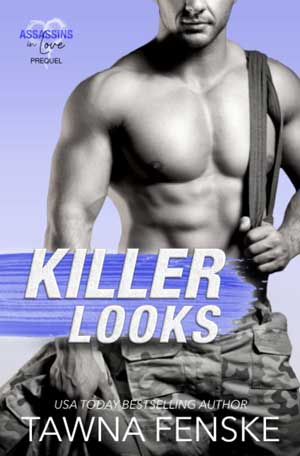 They're hitmen. Trained assassins. If they nail this job, there's a payoff. Possibly cookies.
But first, the bad stuff. Dante's done with hitman life, but there's one last job to do. A favor to the Duke of Dovlano targeting brutal gun runners. Dante calls on comrades, Matteo—brilliant, brooding, lethal—and charming Sebastian "The Dentist" LaDouceur. Each has skills he's honed to take out threats at all costs. They've also got soft spots for family, lost loves, baby farm animals, and iambic pentameter.
But when the job falls apart, their carefully laid plans go up in smoke. Can three killers with a conscience stick together, or is it every man for himself?
KILLER LOOKS REVIEWS:
"A crazy-exciting preamble to Fenske's new series." -Trosado, Amazon
"The perfect teaser for her new series! I can't wait to read them all." -Late Night Luna Reads 
"This was a fantastic book!" -Samantha, Goodreads 
"Well written and engaging. I am excited to see how the stories for these men play out." -Tmoldovan, BookBub
"I do believe I'm hooked." -Honolulubelle, Books & Bindings
"Oh my gosh, Killer Looks is a fun read!" -Elizabeth, Goodreads
"Killer Looks had me on the edge of my seat and heart pounding from about halfway through until the end." -Misty, Goodreads