Gender Swap, Regency Style by Josi S. Kilpack
Comments Off

on Gender Swap, Regency Style by Josi S. Kilpack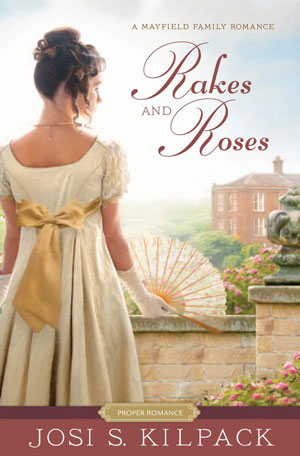 "Uplifting…Kilpack flips the typical Regency romance script, with the heroine rescuing the hero. Kilpack's strong, upright heroine who finds a way to claim her power in Regency society sets this love story apart. This magnetic tale will appeal to fans of emotional romance."—Publisher's Weekly 
 "Kilpack takes traditional regency roles and challenges them. She shows how one person can make an impact in the world. I found the story and premise unique."—Heather Gardner, Fire and Ice
"This is a story of redemption above all else…the ending was perfect."— Lucinda Whitney, author of Rescuing the Prince
---
Gender Swap Regency Style with Josi Kilpack, Bestselling Author of Rakes and Roses
Hello Romance Junkies readers. I am so happy to be visiting with you today to introduce you to my new novel, Rakes and Roses. While it is the third novel in the Mayfield Family Series, it is a standalone and can be read separately. With this novel I decided to do something bold and brave—a gender swap. Intrigued? Read on…
The term "gender-swap" can be used to explain a variety of uses in fiction. In Fantasy novels, for instance, it's often body-swapping, where characters "souls" are swapped into a body of the opposite gender. There's also the type of swap where traditional roles are played by different genders from the original—such as the Ghostbusters remake in 2016. A few months ago, I attended a high-school production of Romeo and Juliet where Mercutio and Tybalt were both played by girls. At first I thought it was girls playing a male role, but the pronouns had been changed as well and it quickly became clear that those girls owned those roles as female characters. It added a fresh dimension to the stories and in no way took away from characters.
In Rakes and Roses, the type of gender swap I used was more of a power-dynamic-swap. Regency England was a patriarchal time where women had very few rights and, therefore, opportunities. Higher education was not available for women and though she might learn a trade, such as haberdashery or sewing, her earnings legally belonged to her husband if she were married and her father had control if she were unmarried. A woman could not vote, hold office, petition for divorce or expect custody of her children if her husband successfully petitioned parliament for a dissolution of their marriage. A married woman had less rights than an unmarried woman as all her property would become her husband's as well as any inheritance she received after marriage. The justification for this was that the law treated a married couple as one person—one mind and therefore one voice which the husband exercised on behalf of them both. The limitations this created left women without power over themselves, their money, their children, and their future and kept men in a position of ultimate power. The only way for a woman to truly have control over her future was if her husband died without an heir and his holdings were not entailed—this is the situation Lady Sabrina finds herself in after her abusive husband's death. She has her own money and assets which buys her independence most women would never dare dream of. She still can't vote or run for office and the prejudice against women bars her from certain financial ventures, but she's found ways to work around some of the roadblocks and live the life she chooses. She does not take her power lightly and tries to use it for the good of others.
Harry, on the other hand, is the only son of a landowner and the grandson of a Viscount on his mother's side. Harry was born into power and takes it completely for granted. He gets his schooling and takes over the family estate when his father dies, but then he goes to London and indulges himself in every vice. Gambling allows him to spend more money than his estate produces and at the time this story starts, he's broke, out of options and out of time to pay back a loan to a dangerous lender.
Sabrina finds Harry in an alley after he's been beaten to ensure he can't run from his debts. She takes the responsibility of his physical care but behind the scenes, she's also trying to save him from his debts. Harry therefore becomes the damsel in distress and Sabrina becomes the mighty hero who comes to his rescue. The dynamics were fascinating to explore as Harry has to do as he's told and comes to realize how very powerful she is—he succeeds or fails at her discretion. Sabrina, on the other hand, realizes how tempting it is to be a bully when she's the one in charge. Over and over again they are brought to a head over who makes the decisions, who acquiesces, and who needs who the most as Harry recovers not only from his physical ailments, but explores what pain his vices have been distracting him from.
Love is one thing, but marriage will take away the independence Sabrina has thrived in. The overarching theme of this story becomes trust—each character learning to trust themselves and each other. Though the power dynamics of our time have changed and are still shifting toward better equality and respect, each of us faces the same questions of trust when it comes to relationships. My hope is that Sabrina and Harry's story helps us to see the way power plays out in our lives and helps us commit to use our powers for good.
I hope this introduction to Sabrina and Harry and their unusual power dynamic will entice you into discovering their slow building romance in Rakes and Roses. It was a blast to write and I loved sharing them with you here today.   
Happy Reading!
Josi
---
Josi S. Kilpack is the bestselling author of several Proper Romance and Proper Romance Historical series and a Cozy Culinary Mystery series. Her books, A Heart Revealed and Lord Fenton's Folly; were Publishers Weekly Best Romance Books of the Year. She and her husband, Lee, are the parents of four children.
WEBSITE | FACEBOOK | TWITTER | INSTAGRAM | GOODREADS
 A standalone novel in the Mayfield Family series with an unusual premise and an uplifting ending.
Lady Sabrina endured an abusive marriage, a miscarriage, and early widowhood to emerge as a smart, successful, confident woman who found a way to make her mark in a man's world. She has friends and purpose, but cannot hide from the emptiness she feels when the parties are over and the friends have gone home to families she will never have.
Harry Stillman may be charming and handsome, but he's a gambler and a rake who has made a mockery of his privileges. He turns to the mysterious Lord Damion for financial relief from his debts, but still ends up beaten nearly senseless by thugs and left in an alley.
When Lady Sabrina comes upon Harry after the attack, she remembers the kindness Harry once showed to her six years ago and brings him to her estate to heal. Though their relationship begins on rocky footing, it soon mellows into friendship, then trust. But Lady Sabrina needs to keep Harry at a distance, even if he is becoming the kind of man worthy of her heart. After all, she is keeping a secret that, if exposed, could destroy everything she's so carefully built.
AMAZON | BARNES & NOBLE | DESERET BOOK | BOOK DEPOSITORY INDIEBOUND | AUDIBLE | GOODREADS