Gina Conkle's The Lord Meets His Lady & a #FREE novella!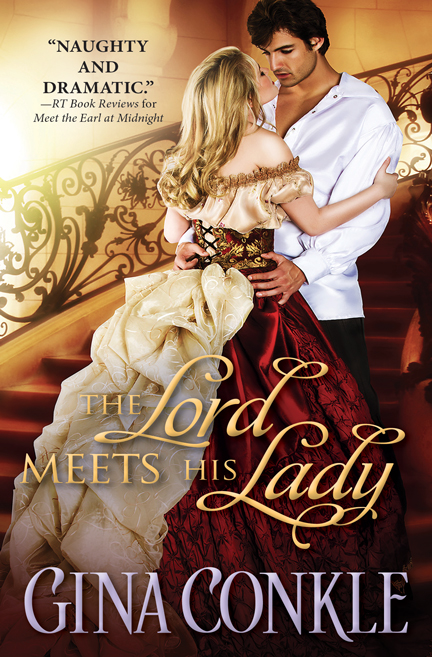 In Gina Conkle's THE LORD MEETS HIS LADY, Lord Marcus Bowles has stained his family's reputation for the last time. Only after spending a scandal-free year restoring some far-flung property can this second son return in good graces. But Marcus isn't one to abandon a lone damsel on a dark country lane.
One stolen kiss and Genevieve Turner's handsome midnight savior disappears. Typical. No matter, Gen is finally on the way to her new post, and hopefully to finding her grandmother as well. Instead she finds her mischievous hero is her new employer. Surely a few more kisses won't hurt…
Midnight Meetings Series:
Meet the Earl at Midnight (Book 1)
The Lady Meets Her Match (Book 2)
The Lord Meets His Lady (Book 3)
---
An excerpt from The Lord Meets His Lady
One red-gloved hand flattened on the coach near his head. "I'm…I'm coming north for a housekeeper's post in Cornhill-on-Tweed. For a better life."
His looked up from the brace. Standing moments ago off the road, her features weren't clear when the wind pushed back her hood. Nightfall made sure of that. Sitting by the coach, she faced the moonlight. Faint freckles dotted her small nose. Thick, blunt lashes fringed dark, imploring eyes. Secrets hid in those depths.
Flirtation aside, he liked talking with her, and there was the very male impulse to offer protection to a young woman alone.
He grabbed the axle and tested the first knot. "I'm wintering near Cornhill-on-Tweed. My cottage needs a housekeeper."
She laughed without humor. "Oh no. A post in your household wouldn't be good for the likes of me."
"Why not?"
"Because I already have a position with a Mr. Beckworth and family…a family, milord."
She was going to work for Samuel Beckworth? His friend's proximity to Pallinsburn was the single reason this northern exile was palatable. Resting his forearm on his knees, he absorbed another fact, the telling brightness in Miss Turner's voice when she said family.
He let go of the axle. "You're taking a position with my good fr—"
"Ah, looks like yer about done." The coachman's lamp light intruded. The old man bent low, his weathered features scrunching with inspection. "Good enough to get us to Lowick. These tired bones of mine need a rest. Been a long night, but my thanks for your help, milord."
The coachman hooked his lantern on the front panel, the light catching Miss Turner's gold tresses flying free. Marcus pushed off the ground about to offer his hand, but she scrambled to her feet and grabbed the blunderbuss before he could help her. He wiped road dust from his hands, following her under the brim of his hat. This accidental interlude was coming to a close. Less than an hour ago, he didn't want to stop. Now, he didn't want this stop to end.
"You'll want this." Miss Turner handed over the pistol to the driver.
The coachman set it on his footboard. "If ye'd be so kind, milord, to see Miss Abbott finds her seat, we can be on our way."
His swiping hands stilled. Miss Abbott?
Miss Turner spun around and set one finger to her lips, her eyes saucer big.
"Of course," he called back. "I'd be happy to help Miss Abbott."
The driver hoisted himself up to his seat. Miss Turner darted for the coach door, but Marcus took quick steps backward, his hand covering the latch. He had no hold on her. Why the deception?
"Miss Abbott is it?" he asked his voice barely above a whisper.
"For now." She averted her eyes. "I wanted to explain, but I wasn't sure if…if…"
"If you could trust me."
Her solemn stare pinned him. "Yes."
Fresh gusts brushed the bottom of his redingote against her. Miss Turner's mouth flattened, and a need surged, the want to soften those lips with smiles and laughter.
Giving a light flourish, he laid his hand over his heart. "You wound me. Honor is my middle name."
"Honor?" Doubt threaded her quiet voice.
"Lord Marcus Honor Bowles. Trustworthy as a vicar."
A single feminine brow rose.  "A vicar?"
He chuckled, the sound a dry rasp. "Vicar's a bit of a stretch for me. Would you accept choir boy? I was one for a short time until I got the boot."
A tiny spark lit her eyes. "I shall remember that if I need a song or comfort and wisdom, milord."
Resting a shoulder against the coach, he grimaced good-naturedly. "I'm short on song and wisdom these days."
"But you excel at giving comfort." Her lips twitched. "Especially to women."
Buy Links for The Lord Meets His Lady:
Gina Conkle writes lush Viking romance and sensual Georgian romance. Her books offer a fresh, addictive spin on the genre, with the witty banter and sexual tension that readers crave. She grew up in southern California and despite all that sunshine, Gina loves books over beaches and stone castles over sand castles. Now she lives in Michigan with her favorite alpha male, Brian, and their two sons where she occasionally gardens and cooks.
Social Media Links: