Going Deep with Anne Calhoun & Giveaway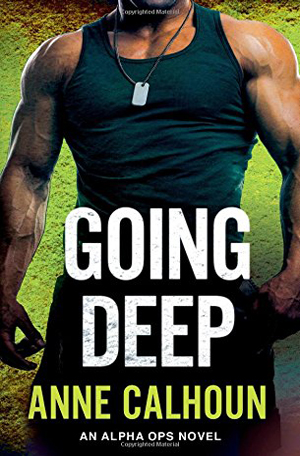 GOING DEEP by Anne Calhoun is the second in her outstanding Alpha Ops series. The book is a continuation of the series but also a stand-alone, and it so impressed our reviewer that Samantha gave it a 5 Heart, Recommended Read!  Check out our review and note the contest to win a copy of GOING DEEP. Don't miss out!
---
I really enjoyed the last book I read by Anne Calhoun, UNDER THE SURFACE, so I was pleased to have the chance to read and review the next stand-alone novel in her Alpha Ops series, GOING DEEP. But it turns out I should have been much more than pleased, because GOING DEEP hooked me in from page one, and the fantastic storytelling never let up. I now have a new favorite to add to my shelves!
Cady Ward–stage name Maud–is a rising pop sensation. She's home for the holidays, preparing for the release of her new album, but even off the stage she can't escape the occasional crazy fan and internet death threat. Cady's campaign manager forces her to hire a bodyguard, which Cady sees as a nuisance–until she meets the man for the job.
Officer Conn McCormick never had a true home. He bounced through the foster care system and finally found a semblance of family within the police department. But someone has framed Conn for a crime he didn't commit, a lie too easily believed because of Conn's difficult past. To keep Conn out of the way while the department investigates, he's assigned to Cady Ward as her 24/7 bodyguard.
Both Cady and Conn have issues that we learn from the get-go: Conn, a history of abandonment, and Cady, fear that the new album she's releasing (for which her record label has already invested millions of dollars) is not true to her voice and will stall her career. Cady and Conn are such well fleshed-out characters, I could immediately imagine being friends with both of them; their thoughts and actions are so realistic and human, and their relationships with friends and family are viscerally real. Anne Calhoun definitely stepped it up. While Eve and Matt from UNDER THE SURFACE are characters we simply have to love, and I enjoyed their cameos in GOING DEEP, I felt much more connected to Cady and Conn and identified with both of their struggles (even though one of them is a music sensation).
I wondered how long the sexual tension would build between Cady and Conn, who are about to spend every waking moment together, and was completely surprised when both characters are open and honest with each other from the start. They find each other attractive, so they immediately hop into bed. I loved that they started having sex right away–far from ruining the mystery and romance, the story is built around how this bodyguard-with-benefits relationship will hurt or help both Conn's fear of abandonment and Cady's struggle to let her voice be heard. It was also a refreshing role-reversal to see Cady as the more relaxed of the two, asking for just sex, while we read Conn's inner turmoil about not wanting to get attached. And it doesn't hurt that the sex scenes are not only super hot, but also very emotionally charged, giving us the obvious hint that there's more than just the physical between these two.
There are a lot of obvious hints and predictability to the plot, but this didn't diminish the story in any way. Instead, I think it's what made the story great. Each scene felt inevitable and necessary to heal these two characters. We anxiously wonder when Cady will realize that when she performs as Maud, she's literally not herself, and we anticipate the moment when their undefined, destined-to-end-when-Cady-goes-back-on-tour relationship will bring out Conn's deep-seated abandonment issues.
When someone begins hacking into Cady's website, trespassing on her property, and stealing her things, Conn will stop at nothing to track down the threat. The thriller plotline is realistic and believable, and also feels delightfully predictable, constructed to make the characters face their worst fears.
I read GOING DEEP in one sitting, and was left with warm fuzzy feelings when I turned the last page. I highly recommend GOING DEEP for any fans of contemporary romance or romantic suspense. And this time I will be anxiously anticipating the next in the series!
A RECOMMENDED READ!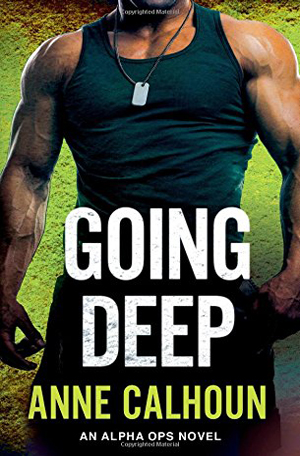 To read more about Anne Calhoun's books, see her website
To enter to win a copy of GOING DEEP, simply comment here about why you like Romantic Suspense. 2 U.S. winners will be chosen. Contest ends 11/5. Good luck!