Guest blogger, author and marketing manager, Kim Richards
Well, hello!
Thank you very much for having me today. It means a lot to me as both an author and as the marketing manager for the most awesome ebook publisher in the entire universe:  Eternal Press.
A lot of people see my name on promo emails and places like www.writerschatroom.com where I hang out and occasionally moderate chats. Many of those folks don't know much about me or my work.  So I figured I'd tell you what I have going on since I normally spend a lot of time telling people about other folk's works.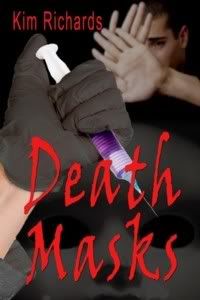 I have a love for fantasy and dark fiction but have found horror a little easier for me to write. I read just about anything though. It must be my sick sense of humor. Death Masks is a thriller about a serial murderer which Eternal Press released just a month prior to me accepting the position of marketing manager. I actually started out with them as an editor.
I really love working at EP. It's a great, very supportive family who have given me an appreciation for romance. I always thought romance was silly stuff until I read some of these books and interacted with these folks. Since then I've met so many talented writers with great stories to tell. That's what's most important to me…a good story.  The folks at EP have given me the courage to try my hand at erotica too. I have my first erotica coming in December under a pseudonym.
You can check out my other works on my website at www.kim-richards.com  There you'll find the video trailer for Death Masks which features a deathmetal band from my home town of Roswell, NM and one of a reading I did at the Red Lion Pub in Chicago featuring a story of mine, Beauty Is, which appeared in issue #4 of Surreal Magazine.  It's a fun story.  Think Mary Kay lady meets a zombie!  🙂 Wanna know a secret? I was a Mary Kay lady when I wrote the first draft.
I have a number of short stories in anthologies, the latest of which is a story about what dragons really do with the maidens given to them. It's called Dragonfruit and appears in the anthology, Firestorm of Dragons.  Coming soon in 2009, I have a paranormal story in an anthology about dark fairy tales. That story's called Die Weib Frau.  I was lucky enough to spend six weeks in Germany this year and ran across both legends touched on when visiting a castle.  My sons have often told friends to watch out because everything ends up in one of my stories. I suppose they're right.
My non-fiction work includes chapters in The Complete Guide to Writing Fantasy and The Complete Guide to Writing Science Fiction, both from Dragon Moon Press. 2009 will see another guide from them on writing magic. I wrote the chapter on Celtic Magic (and recently presented a workshop based upon it at The Muse Online Writing Workshop).
Also upcoming from Dragon Moon Press, will be a guidebook on writing paranormal stories. I'm co-editing this one with Tina Morgan. Bop of an email to me if you want the guidelines. krichards at kim-richards dot com.
As of today I'm neck deep in nanowrimo (National Write a Novel in A Month). It's fun and I do recommend it for any writer. The one thing nanowrimo did for me was show my family that I'm serious about this writing thing. I've created several novels through participating in it. There's just something about a deadline like that which gets me motivated.
I just got married in 2009 on Halloween. I keep telling everyone I'm going to take a week off but something always comes along that I want to do first. I like being very busy. It and writing keep my depression at bay. I'm one of those writers who 'can't not write'. It's in my blood.
Thanks again for letting me ramble today. I hope you'll take time to check out my work and visit Eternal Press at www.eternalpress.ca
OH, you know that email address I gave you above? Send me your snail mail address and I'll mail you a bookwormbag goodie bag.
Happy Thanksgiving!!!