Heartwarming Holiday Wishes with Cari Lynn Webb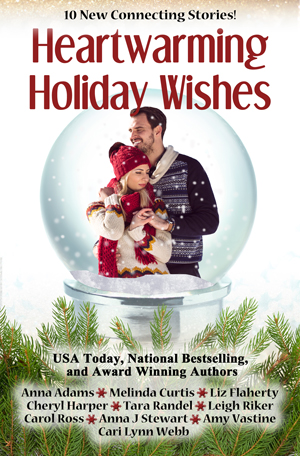 This holiday season, warm your heart with 10 connected sweet, clean & wholesome holiday romances set in Christmas Town from 10 Harlequin Heartwarming authors who are USA Today bestselling authors. This collection of PG-rated holiday romances are all set in Christmas Town, Maine, a location introduced in the 2014 Harlequin Heartwarming release Christmas, Actually. 
---
Let's Chat by Cari Lynn Webb
The holiday season is quickly approaching and that means office parties, neighbor open houses, work functions and family gatherings. Even in the most comfortable social situations with long-time friends and family, we might get seated next to our 3rd cousin's 5th boyfriend and find ourselves searching for something to say . . .  anything to say to keep the awkward silence from dulling our holiday joy.
We've all heard the advice to ask open ended questions, but I have to admit, I've used this approach and still been surprised when I've gotten one answer replies that don't invite further conversation. Then I've spent most of the night trying to figure out how a person could've answered my question about the best part of their vacation to the Caribbean with the response: it was a vacation.
In the spirit of the holidays and upcoming social gatherings, I've put together a list of my favorite conversation starters. This list is in part thanks to the wonderful Google search engine, but also from questions I've been asked at social events – the ones that made me stop and think: Great question. I need to remember this one.
If you had to relive one day, what would it be?
What did you do as a kid that you miss doing today?
What was your favorite and least favorite chore as a kid?
If you could snap your fingers and transport yourself to anywhere in the world right now, where would you go? (I just snapped my fingers and I'm not in a castle in Scotland ?)
What's the strangest thing about where you grew up?
What has been your worst (or best) vacation experience?
What has been your longest plane ride or car trip or train ride?
Do you prefer texting, e-mailing or calling and why?
What's the first thing you do after work?
You pick a couple across the room that is out of earshot and you caption that couple's conversation. Ask the person next to you: What do you think they're talking about?
This one speaks to my writer side (and something that I admit, my husband and I have done at more than one social function). I should probably also say that I do this quite often wherever I am, not just at the holidays and if I'm close enough, I'll eavesdrop to see if I was right … again, it's the curious writer in me.
Wishing everyone a magical holiday season and easy, fun conversations for every social occasion!
Happy Reading!
Cari Lynn Webb
Cari Lynn Webb lives in South Carolina with her husband, daughters and assorted four-legged family members. She's been blessed to see the power of true love in her grandparent's 70-year marriage and her parent's marriage of over 50 years. She knows love isn't always sweet and perfect, it can be challenging, complicated and risky. But she believes happily-ever-afters are worth fighting for. She loves to connect with readers.
Twitter: @carilynnwebb
Facebook: https://www.facebook.com/carilynnwebb
Website: www.carilynnwebb.com