Intercepted by Alexa Martin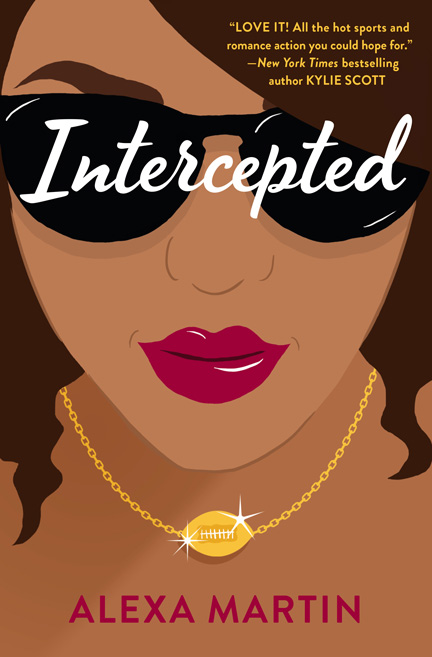 Advanced praise for INTERCEPTED by Alexa Martin:
"I finished this book with a big smile on my face and that gooey, good book feeling in my chest."—JASMINE GUILLORY, USA Today bestselling author of The Wedding Date
"Perfect for readers looking for a fun contemporary." —Publishers Weekly
"Reading Intercepted is like drinking wine and gossiping with your best girlfriends. It's fast-paced, flirty, and laugh-out-loud funny, without the hangover the next day."—HELEN HOANG, author of The Kiss Quotient
"LOVE IT! All the hot sports and romance action you could hope for."
—New York Times bestselling author KYLIE SCOTT 
---
A smart, sexy rom-com inspired by the author's own experiences as wife to a two-time Super Bowl Championship winner. Welcome to the WAG Life.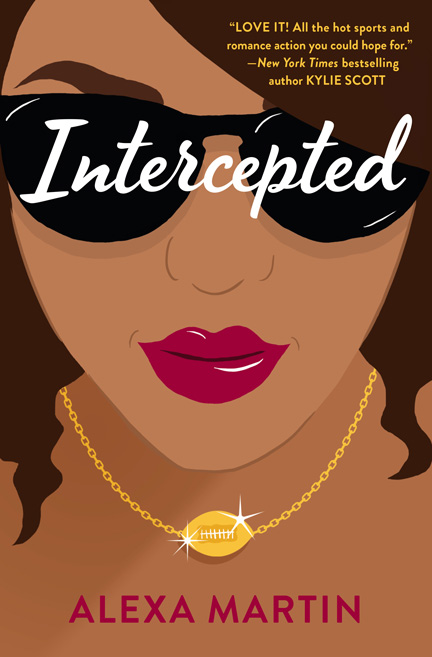 Hate the player, not the game.
Marlee Harper is the perfect girlfriend—she has ten years' worth of dating her NFL-star boyfriend to prove it. Unfortunately, he didn't get the perfect boyfriend memo. When his affairs go public, she officially swears off athletes for good.
Enter Gavin Pope: the team's new quarterback and fling from her past who has definitely not forgotten Marlee. He's ready to prove that he's nothing like her ex, but not everyone is ready to let her put history behind her, especially the team's wives who never liked Marlee and her "perma-girlfriend" status to begin with. Determined to take her down, they make Marlee public enemy number one, one reputation-ruining tweet at a time.
In an attempt to drown out the drama and push football politics to the wayside, Marlee chooses to ignore the fray and focus on her relationship with Gavin. But when he makes a life-changing decision without her and she's on the sidelines of her own life again, it's going take more than a Hail Mary to save this relationship.
Excerpt:
The idea of Gavin showing up to my family home sets the butterflies in my stomach free. I have to remind myself he doesn't remember me, he's just being friendly to a teammate's girlfriend. End of story.
"Don't you wish. Chris isn't even promised a seat. Quarterback or not, my family doesn't share well when it comes to pasta."
"Well, I'm awesome, and Chris is questionable. Your family would love me."
"Maybe they could find a seat for you, but I'm not sure the room is big enough for your ego to tag along." I ignore the jab at Chris, handing Gavin the final plate.
"Damn. You got jokes?" He acts insulted, but there's a smile on his face when he says it. I shrug it off and give him a hand towel. I tend to forget not everybody knows my sense of humor. Something I should try harder to remember when it concerns my boyfriend's coworkers.
He hands me the last plate to dry, and his fingers graze mine. The contact is so minimal, I shouldn't have noticed it. But when it comes to Gavin, I notice everything. "Thanks for helping, but I really do have work to finish."
I hang the towel from the stove and try to play it cool. I'm not a relationship expert or anything, but I'm pretty sure I've watched enough reality shows to know crushing on your boyfriend's coworker is generally a no-no.
"TK told me you did his website. I checked it out and it looks fantastic. Are you taking on new clients?"
When I turn away from the stove and face him, he's in the same spot, watching me with what I think is either curiosity, mistrust, or kindness.
Yes, I'm aware those are all different, but I've never been very good at reading people.
"Always. It's rare for me to ever turn down a client." I look for something else in the kitchen to keep me busy.
"Good, because my website needs an overhaul since I switched teams."
Oh no. Not gonna happen. Seeing him on occasion is one thing, but working for him is on a whole other level of asking for trouble.
"Your website? Didn't you already have somebody design your website?" I scramble for any excuse to say no. "I doubt you need a new one, just a few tweaks, and I don't like messing with other people's work."
"You just said you didn't turn down a client. I want a new website. I'll have Madison email you some pictures of me in Mustangs gear and shots of my charity events."
Oh lovely, Gavin and Madison. This keeps getting better and better.
"Your girlfriend is your secretary? How very old-school."
"Madison isn't my girlfriend. She's an old friend who happens to work in PR." He shakes his head, acting like the idea of him with the leggy beauty is outrageous. "Think about it for me. I'd really appreciate it, and I promise to recommend you to everyone I know."
Dammit. Doing this would be huge for me. I got my degree in graphic design from the Art Institute five years ago and started doing some freelance work to keep me busy. Business has been growing slowly over the past five years . . . which is fine. Chris gets all offended when I offer to pay for anything so I shovel all my money into savings and paying off my student loans.
I graduated with my masters in marketing last spring and have spent all summer (unsuccessfully) trying to find an adult job complete with medical. Unfortunately for me, the closest I got to medical was the marijuana dispensary next door to an interview I went to. So while I wait to find the apparent unicorn job I've spent my entire life preparing for, I might just have to build a website for my ex-fling turned current boyfriend's coworker.
I'm about to agree when the intercom buzzes and Chris's voice booms through the kitchen. "Marlee, can you go find Pope for us?" he asks. He hangs up before I have the chance to answer.
"I guess that's my cue." Gavin starts walking out of the kitchen but stops before he makes it all the way out. "By the way, I think you dropped this." He pulls something small out of his pocket, tosses it to me, and is gone before I even realize what I'm holding.
My grandma's necklace. The one my mom gave me after she passed.
The one I lost four years ago in a Chicago apartment.
Holy shit.
He kept it?
Holy shit.
He remembers me!
Inspired by her own experiences as wife to two-time Super Bowl Championship winner Derrick Martin, the author expertly—and hilariously—draws you into the cutthroat, glamorous world of NFL wives. #WAGLife
Martin's take on modern relationships, from the pressures of social media to reclaiming your independence within monogamy, feels both raw and real. She tackles these issues in the same way you would a girlfriend's dating woes—with plenty of wine and hilarious advice.
At its heart, INTERCEPTED is about independence, female friendships, and a second chance at love. Martin delivers a funny, original, and fast paced novel that will appeal to a wide range of readers. This book will put a smile on your face and a new favorite on your shelf.
♥
Alexa Martin is a writer and stay at home mom. She lives in Colorado with her husband, a former NFL player who now coaches at the high school where they met, their four children, and a German shepherd. Her first book, Intercepted, was inspired by the eight years she spent as an NFL wife. Visit her online at Facebook.com/AlexaMBooks and @AlexMBooks.