Kat Martin's INTO THE FIRESTORM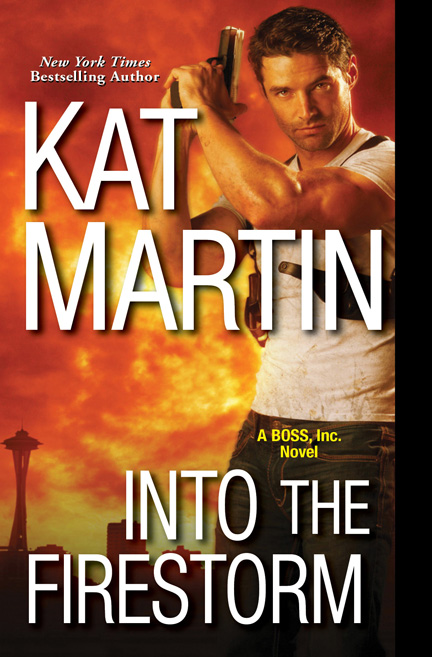 At Brodie Operations Security Service, Inc., following your instincts is company policy . . .
 
M. Cassidy—Luke Brodie had heard the name before, some novice bounty hunter working Seattle, catching tricky skips with more success than a newcomer should expect. But the dark curls, sparkly top, and impressive cleavage were not what Brodie had pictured…
---
Just the Right Match
Finding the right match for the hero and heroine is one of the toughest and most exciting parts of writing a novel.  The hero of INTO THE FIRESTORM is Luke Brodie, one of my strongest, toughest, sexiest heroes. 
Luke, a former special forces soldier, is a bounty hunter who works at Brodie Operations Security Services, BOSS, Inc., in Seattle.  A fat $600,000 is the 20% bail enforcement fee he'll collect if he brings in international criminal, Rudy Vance.  Luke is a womanizer par excellence and a dedicated bachelor.  But he is also a complex man, one who has given up the idea of having a normal life.   
Fortunately, Emma Cassidy showed up, a strong woman in her own right, a fighter, a lady determined to achieve the goal she has set for herself–bringing a murderer to justice, a criminal who is threatening her family.
Emma is also hunting Vance.  It's been almost a year since she arrived at her sister's home to find the housekeeper murdered and her young niece the victim of Vance's sick assault. 
Emma is determined to find Vance and make him pay.  And no one–not even the infamous Luke Brodie–is going to stop her.
I loved that Emma was just as determined as Luke, perhaps more so.  I liked that Luke came to admire her.  Though Emma is nowhere near his equal in skill and physical strength, she is smart and she has learned to handle herself well enough to keep up with him. 
The attraction between them was magnetic from the start.  Add to that, the sexual heat both are fighting to control is a battle they are sure to lose.
Finding the right woman for Luke was fun, and of course setting them off on a dangerous, desperate adventure added to the mix. 
I hope you enjoy INTO THE FIRESTORM and if you haven't read INTO THE FURY and INTO THE WHIRLWIND, the first two BOSS Inc. novels, you'll give them a try.
Till next time, all best and happy reading.  Kat
♥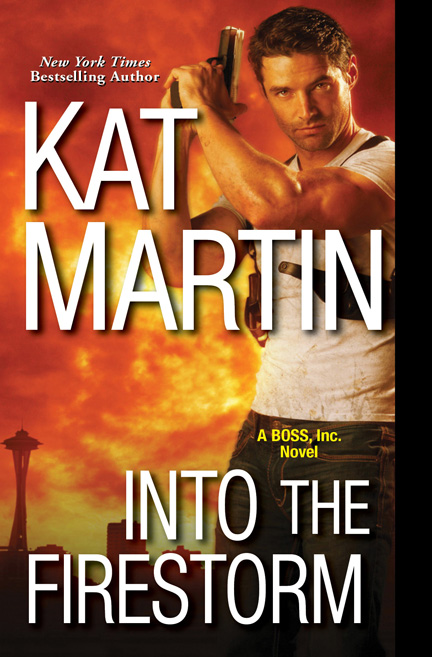 At Brodie Operations Security Service, Inc., following your instincts is company policy . . .
 
M. Cassidy—Luke Brodie had heard the name before, some novice bounty hunter working Seattle, catching tricky skips with more success than a newcomer should expect. But the dark curls, sparkly top, and impressive cleavage were not what Brodie had pictured.
 
Emma Cassidy is tough and smart and sexy as hell. She's also popping up a step ahead of him every time he's close to the capture he wants most . . . and there's no room for learning on the trail of this monster.
 
Emma has idolized Luke Brodie, the bounty hunter who can bring anyone in. The big man in the soft shoes, with a face like a fallen angel and a reputation for breaking hearts. Watching him in action is intoxicating. But her fight with Rudy Vance is fiercely personal. If he gets too close, Brodie will find out just how ferocious she can be . . .
Excerpt:
Luke couldn't believe his eyes when the lady grabbed Digby by the nape of the neck and shoved his head down, slamming him hard onto top of the table.
Skinner groaned and his muscles went limp.  The brunette twisted one of Skinner's arms up behind back, pulled a pair of handcuffs from the handbag on her shoulder, and shackled his wrist, did the same to the other one.  Looking even more stunned than Luke, Digby swayed, his legs wobbly, as the brunette hauled him to his feet.
Sonofabitch.  Luke turned to Eddie, who stood chuckling behind the bar.  "What the hell just happened?"
"She's something, ain't she?  Looks like the lady got to your bail skip first."
"Who is she?"
"Name's Cassidy.  She's a bounty hunter.  Pretty amazing, huh?"
Luke was torn between annoyance and curiosity.  "That's M. Cassidy?"
"Short for Emma.  The guys call her Em."
Em Cassidy.  He knew the name, thought it was a man.  He watched the petite brunette–nine inches shorter than Digby's six foot frame and no more than a hundred ten pounds–haul Skinner out the side door into the parking lot.  Luke reached for his beer, took a last swallow, tossed a little extra cash on the bar, and followed the lady outside.
It took him a minute to spot her beneath a lamp post at the edge of the parking lot.  He sauntered into the shadow of a car in a nearby space, got a real good look at her this time.
Late twenties, petite, but curvy in all the right places, thick dark hair that hung in heavy curls around her shoulders.
A bounty hunter.  That was a laugh. 
The smile on his face slipped a little as he watched her handle Skinner.  She had the guy sitting cross-legged on the grass, hands cuffed behind him.  She was pressing him to answer her questions–exactly the same questions Luke wanted to ask.
"There's a guy you know," she said.  "His name is Felix Riggs.  He's your supplier.  I want to know where to find him."
Felix Riggs.  Same guy Luke was hunting.
Skinner just grunted.  "Yeah, right.  Like I'm gonna tell you anything.  You damned near knocked me out, you bitch."
Emma lightly cuffed the back of Digby's head, and Luke bit back a grin.
"You skipped on a drunk-driving charge," the lady said, "third offense, Skinner.  They're going to stick your butt in jail for at least a year.  Tell me what I want to know and I'll let you go."
She'd let him go?  Luke hadn't expected that.  Now he was even more intrigued. 
Digby sat quietly, considering his options.  "Take off the cuffs, then I'll tell you what you want to know."
"Not a chance."
Digby shook his head.  "If Riggs finds out I told you, he'll kill me.  He don't like snitches."
Frustrated, Emma nibbled her bottom lip.  It was plump and damp, and Luke felt a curl of heat he hadn't expected.
"You want to walk or go to jail?" she asked, pushing, but not quite hard enough, only willing to go so far. 
Luke glanced around.  If Digby didn't spill in the next few minutes, there was a chance the cops would arrive.  Always somebody there to dial 911.
He stepped out of the shadows and Emma spun toward him, went into a wide-legged, self-defense stance.  He pointed to the bail enforcement badge clipped to his belt and she relaxed.
"I didn't hear you walk up," she said.
Luke ignored her, zeroed in on Skinner Digby, crouched down in front of him.  "The lady asked you nice and polite where to find Felix Riggs.  You know who I am?"
Skinner grunted.  "I know who you are.  You're Brodie."
"That's right.  I'm going to ask you the same question just one time.  You don't answer, you won't have to worry about dealing with Riggs.  You'll have to deal with me."   
Skinner swallowed. 
"Now…where is Felix Riggs?"
Skinner ran his tongue over his lips.  There was a lump turning purple in the middle of his forehead.  "Riggs is…he's out of town.  Won't be back till Monday."
"Where can I find him?" 
Skinner gave a sigh.  "Hangs around The Polo Club.  There's a bitch he's got the hots for."
"What's her name?"
"Lila Purdue…like the college, you know?"
"Yeah, I do."  Luke rose to his feet, turned to the lady standing a few feet away.  The moon was out.  She was prettier than he had first thought, with big doe eyes, fine features, and a firm little chin.  He was a boob man and from what he could tell, hers were prime grade A.
"Emma Cassidy," she said by way of introduction.
"Luke Brodie."  He glanced down at Skinner, who was grumbling beneath his breath, then looked back at Emma.  "Nice work," he said.
"Thank you."
Luke glanced across the parking lot.  "Here comes Skinner's ride.  I'll see you around."  He started walking as a black and white patrol car rolled into the lot.  Interesting lady, he thought, ambling over to his battered old Bronco.  Pretty and feminine with a hot little body. 
The very last person who should be running around trying to hunt down criminals.
Luke just shook his head. 
He wondered why she was interested in Felix Riggs.  Riggs wasn't wanted, though he should be since he was a low-life scum.  Maybe he knew something about another bail skip she was hunting.  Luke hoped like hell Emma Cassidy wasn't going to confront the guy.  He didn't think she'd come out as unscathed as she had tonight.
None of your business, he told himself as he crossed the lot, slid in behind the wheel of his beat-up old Ford, and fired up the powerful V-8 engine. 
The Bronco, the perfect, non-descript surveillance vehicle, had been completely rebuilt.  A powerful Ford Racing Aluminator XS 5.0 liter Coyote Engine–500 plus horses–idled like a predator under the hood.  The Bronco had a Cobra jet intake manifold and fully CNC ported aluminum heads. 
Welded restraints had been fitted into the back to hold any prisoners he had to transport to jail.  Luke loved the Bronco.  Like driving a rocket disguised as a paper airplane.   
He checked the rearview mirror, saw little Emma Cassidy hauling butt-ugly Skinner Digby over to the patrol car.  Why she would want to be a bounty hunter he couldn't begin to guess. 
He'd never understood women. 
Clearly that hadn't changed. 
New York Times bestselling author Kat Martin is a graduate of the University of California at Santa Barbara where she majored in Anthropology and also studied History.   She is married to L.J. Martin, author of western, non-fiction, and suspense novels.
Kat has written more than sixty-five novels.  Sixteen million copies of her books are in print and she has been published in twenty foreign countries, including Japan, France, Germany, Argentina, Greece, China, Russia, and Spain.
Born in Bakersfield, California, Kat currently resides in Missoula, Montana, on a small ranch in the beautiful Sapphire mountains.
Her last 12 books have hit the prestigious New York Times bestseller list.  INTO THE FURY and INTO THE WHIRLWIND her most recent releases, both took top ten spots. 
Visit Kat's website at www.katmartin.com
website  |  mailing list  |  Facebook  |  Twitter  |  Goodreads