Kate Hill
Comments Off

on Kate Hill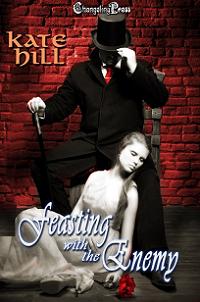 Scarlet Nights 3: Feasting With the Enemy
by Kate Hill
Release Date: June 24, 2016
---
After more than a century sharing a bed and fighting at each other's backs, vampire warriors Blair and May have forged an unbreakable bond.
Now the mysterious New Reign is seeking additional members. Their philosophy–recruit or destroy. Using mind manipulation, they stir up dark memories from the past to tempt Blair and May into killing each other.
Given the chance to resurrect his murdered first wife and children, will Blair now sacrifice the woman he loves–his wife and blood child, May?
Excerpt
"Seductress," he said in a husky whisper while caressing her hair. "You always were irresistible, May."
"I'm glad you still think so."
He grasped her arms and tugged her on top of him. The sparse hairs on his hard chest teased her sensitive flesh. Their gazes locked and she lost herself in the depths of his eyes.
"Always," he said and kissed her.
His firm lips were both gentle and possessive. May loved the way he tasted and felt. She adored his scent and the comfort of knowing he loved her as much as she loved him.
She trusted this man with her very soul. Countless times over the past century they had risked their lives for each other, depended on each other and fought back to back against enemies determined to destroy them.
She and Blair were soulmates, husband and wife, partners against evil.
Tonight they were lovers and May intended to enjoy every moment.
Apparently Blair felt the same. He rolled May onto her back and kissed her again.
About Kate
Always a fan of romance and the paranormal, Kate Hill started writing over twenty years ago for pleasure. Her first story, a short erotic vampire tale, was accepted for publication in 1996. Since then she has sold over one hundred short stories, novellas and novels.
When she's not working on her books, Kate enjoys reading, working out and spending time with her family and pets. She also writes under the name Saloni Quinby.
Connect with Kate online:
Website
Blog
Compelling Beasts Blog
http://www.kate-hill.com/compellingbeastsblog
Facebook
http://www.facebook.com/katehillsaloniquinby
Twitter (Kate)
http://www.twitter.com/katehillromance
Twitter (Compelling Beasts Blog)
http://www.twitter.com/compbeastsblog
Book Video