Leopard's Fury by Christine Feehan is a Recommended Read!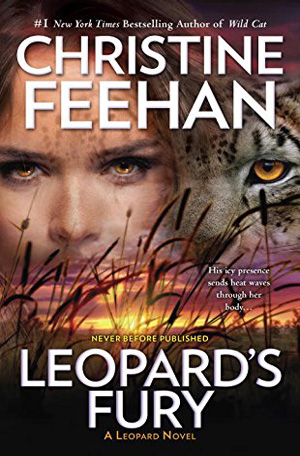 LEOPARD'S FURY by New York Times bestsellling author Christine Feehan releases today! Our reviewer, Angela Brewer, found it engrossing and gave it our hightest rating–5 Hearts, a Recommended Read! And note the giveaway… One lucky (U.S.) winner will received a print copy of WILD CAT, the previous book in the series. Details below.
---
LEOPARD'S FURY–a Recommended Read from RJ reviewer Angela Brewer
Christine Feehan has brought us another intriguing and tantalizing tale of the LEOPARD series. Revisiting some old characters from other books in the series, we get to read about familiar characters and find our attention captured by some new ones.
Evangeline Tregre has a nice quiet little bakery that is her own. She escaped from her home in order to be an independent woman and live her life the way she wants to. Free from overbearing males telling her what to do and when to do it, Evangeline has found peace and happiness in her new home town. Then one day a dark and formidable male walks into her bakery, and Evangeline knows that her life will be forever changed by this man of mystery.
Alonzo knows one thing the moment he steps foot in the little bakery–the woman behind the counter is meant to be his. He knows inner peace in Evangeline's presence, and that is not something he can give up after being tormented for so long. Alonzo knows he is no angel, and bringing Evangeline into his world is a dangerous game. However, he'll do whatever it takes to keep his mate safe and at his side.
LEOPARD'S FURY is a page-turning, passion-burning, keep-you-on-the-edge-of-your-seat thrill ride with a lot of mystery, betrayal, and intrigue thrown in. Evangeline is a great heroine and has an inner strength that shows through her timid facade. Alonzo is the ultimate alpha male, determined to take care of his mate and make her bend to his will. The passionate tension between this couple is so intense, you will find yourself panting in anticipation to see what will happen next. Christine Feehan knows how to pen a story that will attract new readers and keep her current ones coming back for more. I eagerly await the next book in the series.
A RECOMMENDED READ!
To enter to win a print copy* of WILD CAT, the previous book in the Leopard series from Christine Feehan, simply comment here. What's your favorite Christine Feehan series?
*Note: prize mailed to U.S. address only