Librarian By Day, Naughty By Night!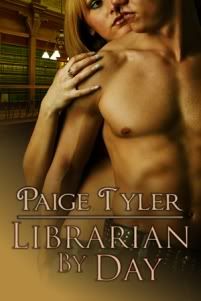 If you're familiar with my books, then you know that I like to add some sexy spanking to all of my stories. I first read about spanking in Johanna Lindsey's books and thought it was cute and sexy. Not to mention, really, really hot! In fact, it was her writing that inspired me to become an author myself.
Now sometimes, the heroine in my books gets spanked because she doesn't do as she's told, which usually puts her in some sort of dangerous situation. So the hero, who loves her like crazy, has no choice but to spank her. For her own good, of course! In other books, the heroine gets spanked simply because she's being extra bratty. In that type of story, the hero, who again is madly in love with her, spanks her because he's at his wit's end and doesn't know what else to do with her.
While it's fun to write those types of stories, I wanted to do something a little different for my new contemporary erotic romance Librarian By Day. The heroine Jennifer has always wanted to be spanked, but has always been too shy to ask her boyfriend to put her over his knee. So, she has been living out her fantasies by writing erotic romances on the side. However, when her boyfriend Nik discovers her secret, he decides to help bring her fantasies to life!
Hope you enjoy the excerpt and the trailer!  And if you decide to pick up Librarian By Day, I'd love to know what you think of it!
Librarian By Day, Naughty By Night!
Shy, reserved librarian Jennifer Davidson has a secret side that few people know about.  She writes erotic spanking romances on the side.  She's never been spanked herself, but when her boyfriend stumbles across one of her book, all that changes.
Nik Evans has always hoped there was a bad girl hiding underneath his prim, proper librarian, but even he is surprised when they begin to explore her fantasies and he finds out just how naughty she can be.
Soon, Jennifer is embarking on a sensual journey of discovery in which she learns that having her bottom warmed for real is better than anything she'd ever written about in her books.
Excerpt:
Jennifer gave her boyfriend a worried look as she set her purse down on the table just inside the entryway of her apartment. Nik had been distracted all evening and she couldn't help but wonder if everything was okay between the two of them. Even though they had only been dating for a couple months, she was really starting to fall for him, and she hated to think that tonight's dinner was some sort of bizarre precursor to breaking up with her. Her heart squeezed at the thought.
Not that she should be all that surprised. After dating her for a while, most guys came to the conclusion that she was way too reserved, especially in the bedroom. She really wasn't, though. She was just naturally shy, which meant that it took a little while for her to be comfortable enough to be herself with them. Of course, they usually didn't hang around long enough to find that out.
Jennifer had felt comfortable with Nik right away, though, and the sex had been great between them from the start. Or at least, she thought so. Sure, she wasn't quite as adventurous in the bedroom as the girls she read about in Cosmo, but she thought she did okay. But Nik's behavior tonight seemed to indicate that maybe she was still being a little too tame. Darn it, why couldn't she be more like the heroines in her books? They never seemed to have a problem holding a man's interest. And they were never shy in the bedroom. Or anywhere else they had sex, for that matter!
But as Nik took her hand and pulled her into his arms for a long, slow, intoxicating kiss, Jennifer gradually felt her misgivings begin to disappear. A man didn't kiss a girl this way if he was going to break up with her, she told herself.
When Nik lifted his head several moments later to regard her thoughtfully, however, Jennifer felt some of her unease return. Here it comes, she thought, and braced herself.
"You know," he said, reaching up to gently brush her hair back from her face. "You kept me waiting quite a long time while you were getting ready earlier."
Her brow furrowed, confused at his words. "I did?"
He nodded. "You did."
She felt her face color. "I didn't mean to. It's just that I was running late at work, and then I had to stop at the store…" She caught her lower lip between her teeth. "I'm sorry."
Nik's dark eyes were appraising as he studied her. "I'm sure you are," he said. "But I think you might need something to help you manage your time better so that you don't do it again, don't you? Like a spanking, let's say."
Jennifer blinked up at her tall, handsome boyfriend, sure she hadn't heard him right.
"Wh-what?"
He nodded. "A spanking," he said matter-of-factly. "I've heard it can be a very effective way to modify bad behavior."
 
Jennifer's eyes went wide at that. Who was this guy, and what had he done with her boyfriend? Before she could think of something to say in reply, however, Nik took her hand in his and led her over to the couch. She was so stunned that she didn't even protest when he sat down and gently guided her over his knee so that she was lying stretched out across his lap. Even if she hadn't been robbed of speech, she wouldn't have protested anyway. She had secretly fantasized about getting spanked for years, so much so that she had started writing about it, and tonight that fantasy was finally going to become a reality! But how had Nik known she wanted to be spanked?
Her pulse quickened as she felt her boyfriend firmly place one hand on the small of her back. The simple action was enough to send a little quiver of excitement through her, and she almost let out a moan. As eager as she was for this spanking, though, she couldn't help but be a little nervous at the same time. Would having her bottom reddened sting as much as she had imagined? Would she like it much as the heroines in her books did? Would she get as turned on as they did? As her boyfriend placed his other hand on her skirt-covered bottom, she realized she was about to find out!
Romance Junkies Give it 4 Blue Ribbons!
"LIBRARIAN BY DAY definitely delivers by exploring fantasies that many women would never dare to admit to craving.  Jennifer and Nik complement each other beautifully especially since they're both so willing to step outside their comfort zones and try something new.  I admit I've often wondered how or even if spankings would be something I'd enjoy, however I also believe it would depend on the partner and so therefore, I'll live vicariously through Jennifer and Nik's story and keep my own deep dark desires hidden – for now!"
[youtube]http://www.youtube.com/watch?v=gICE76b1gXw[/youtube]
Buy it at Whiskey Creek Press Torrid!
For a sneak peek at my upcoming releases Vampire 101 and Animal Instinct, visit my Coming Soon page
And for more of my sexy erotic fiction, visit my website at http://www.paigetylertheauthor.com/
To join my mailing list to receive my newsletter, email me at
 
paigetyler@paigetylertheauthor.com with "add me to your mailing list" in the subject line!
*hugs*
Paige
"Stories so hot, they'll make your cheeks blush!"