Lindsay Emory's THE ROYAL RUNAWAY: A Recommended Read!
Comments Off

on Lindsay Emory's THE ROYAL RUNAWAY: A Recommended Read!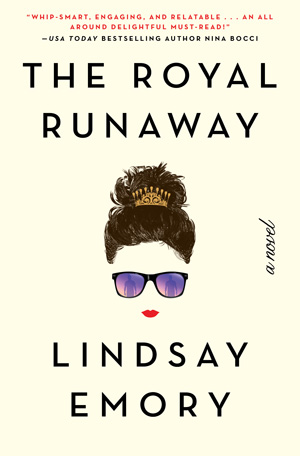 THE ROYAL RUNAWAY gets a 5 Heart, Recommended Read!
From our reviewer, Michele Rioli… THE ROYAL RUNAWAY is screaming with excitement! The Princess of Drieden, Theodora, a gorgeous girl with vivacious verve, is dumped, as in exit, stage right, on her wedding day. The nerve of her fiancé! Angry and humiliated, she is stumped by Christian's actions. She is whisked away to recover for four months. She returns to the castle and is obliged to proceed with her royal duties, press appearances, public services and mundane castle affairs. She isn't sleeping well and desperately seeks a change of atmosphere. Thea slips unnoticed out of the castle, past security and heads to a local bar. She relishes living life normally, but can she?
---
THE ROYAL RUNAWAY
By Lindsay Emory
On sale October 9, 2018!
Book description
Princess Theodora Isabella Victoria of Drieden of the Royal House Laurent is so over this princess thing.
After her fiancé jilted her on their wedding day, she's finally back home after spending four months in exile—aka it's back to press conferences, public appearances, and putting on a show for the Driedish nation as the perfect princess they expect her to be. But Thea's sick of duty. After all, that's what got her into this mess in the first place.
So when she sneaks out of the palace and meets a sexy Scot named Nick in a local bar, she relishes the chance to be a normal woman for a change. But just as she thinks she's found her Prince Charming for the night, he reveals his intentions are less than honorable: he's the brother of her former fiancé, a British spy, and he's not above blackmail. As Thea reluctantly joins forces with Nick to find out what happened the day her fiancé disappeared, together they discover a secret that could destroy a centuries-old monarchy and change life as they know it.
Funny, fast-paced, and full of more twists and turns than the castle Thea lives in, The Royal Runaway is a fresh romantic comedy that will leave you cheering for the modern-day royal who chucks the rulebook aside to create her own happily-ever-after.
Trade Paperback • Price: $16.00 • ISBN: 9781501196614
eBook • Price: $7.99 • ISBN: 9781501196621
And to read our full review, click here!
About the author
Lindsay Emory began her career as a lawyer but now writes romantic suspense, mysteries, and romantic comedy. She hosts a popular podcast Women with Books about genre fiction written by and for women. Lindsay lives in North Texas with two big dogs and her romance hero, drinking gimlets and raising two STEM warrior princesses.