Love's Gamble by Hayden West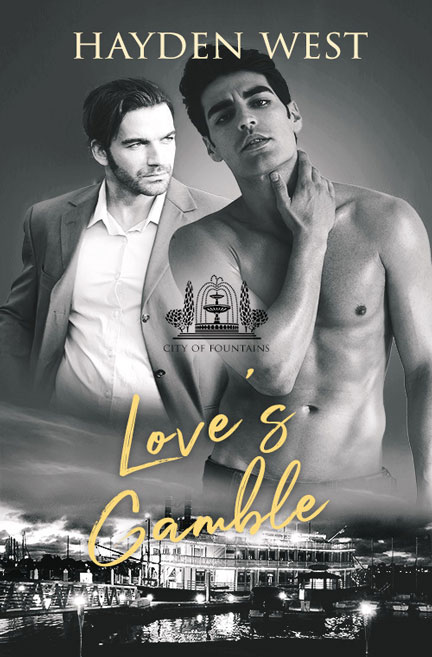 Moving home can be worth the gamble…
What begins as one anonymous night with a stranger swiftly becomes more to retired parajumper Deacon "Lobo" Williams. Back home, he has an intimate and powerful encounter with a man he doesn't even stop to learn the name of. Unable to keep it just one night, he comes back for more.
---
Love's Gamble by Hayden West
General Release Date: 12th October 2021
Word Count: 15,774 Book Length: NOVELLA Pages: 68
Genres:
CONTEMPORARY EROTIC ROMANCE GAY GLBTQI MYSTERY
Book Description
Moving home can be worth the gamble…
What begins as one anonymous night with a stranger swiftly becomes more to retired parajumper Deacon "Lobo" Williams. Back home, he has an intimate and powerful encounter with a man he doesn't even stop to learn the name of. Unable to keep it just one night, he comes back for more.
Blackjack dealer Joe Chavez is far more comfortable with his sexuality than the man he has begun seeing. There are plenty of demons for them both, but if they want to make this work, they will have to decide if love's gamble is enough.
Reader advisory: This book contains mentions of PTSD, violence, attempted rape and reference to suicidal thoughts. 
Excerpt
"Yes! Come on, Ben. You got this!"
Deacon "Lobo" Williams cut his gaze to his sister as she jumped up and down, screaming as her blonde hair bounced. The last thing he'd expected to be doing on his first night home was hanging out with Debra at a National Rodeo event in their town.
Smiling at her, he shook his head. "Know him, do you?" He turned his gaze to one of the few black men who was participating in this event. Ben Mooney was a steer wrestler and was the favorite to win this event.
"I do. His sister and I have been friends for years. She wasn't able to come tonight so wanted to make sure he had some support." She turned her baby blues to him. "Are you mad I made you come?"
He wasn't mad, but he had been hoping for a quieter venue. He was edgy and knew it was from the lack of sleep he'd been getting. Nightmares and PTSD were shit and since he'd ditched his therapist, it was something he was wading through on his own.
I don't need help.
Or so he continued to tell himself.
The crowd roared and she whipped back to the arena and screamed even louder. Pumping her fist in the air, she chanted, "Ben! Ben! Ben!" She put her fingers in her mouth and whistled.
He'd taught her that when she'd been in middle school, how to put two fingers in her mouth and release a piercing whistle. He had been so proud of her for that and, damn it, he still was. Her joy was contagious and he cheered along with her, not quite with as much enthusiasm, but loudly.
The moment the score populated on the marquee sign, the crowd got louder. When they settled down, the event continued. "Nope, not mad." He never wanted her to feel like crap because his life had fallen into the shitter. "When did you meet his sister and where?"
She nudged him with her shoulder. "I met her in college and like I said, years ago." Debra yanked his drink from him and indulged. "We worked the same late shift at a shitty gas station and grew close. I met Ben the first holiday I went to her house."
He remembered the year she spoke about, one where he hadn't been able to come home. As it was just the two of them now, having lost their parents three years apart after he'd reupped with the Air Force, he'd felt horrible.
"Is she coming here this year?"
"I don't know, we typically head to Vegas together to watch him in the finals. I can ask her. Are you sure you're going to be home this year?" She applauded the latest competitor before looking at him once more. "It would be pointless for me to invite her to meet you if aren't going to be there."
He pushed back the bitterness and forced lightness into his tone. "I'm sure I'll be home."
There must have been something in his tone, for she angled her body toward him. "Deacon? What aren't you telling me?"
How he'd hoped to have this conversation over a tumbler of scotch or a few beers. More like both. Not here at a rodeo. And he needed it to be his version. He opened his mouth and closed it the second she shook her head.
"Don't lie to me, Deacon. I'm your sister. I, of all people, deserve to know the truth."
He brushed his hand along her face, allowing himself to remember it was okay to be soft and gentle. If there was one person in the world who could bring that out in him, it was his baby sister. His only sister. "I know. But can you wait until after we get home? It's not really a discussion I relish having here." And it would give him time to get his lie straight in his head so it fell from his lips in a plausible fashion.
She didn't speak for a bit, just stared at him. Holding still, he waited until she found what she sought. If she insisted on doing this here, he would, he just didn't want to. The truth wasn't coming out. That was going to be his own private hell. The bad landing, the surgeries, the loss of his career. Nightmares and more. Yeah, no thanks, he wasn't about to open up that can of worms because someone wanted to share.
"Okay."
That was it. Debra faced the arena once more. He loved her. After everything had finished and people filed out, she put her arm through his and together they headed down from their seats. He watched her interact with people as they made their way to wherever she wanted to take him.
There were cameras and people milling around. She pushed up on her toes, waved and called out, "Ben!"
The lanky but fit black man walked up, an inherent swagger in his step that wasn't something anyone could have taught him. It was natural.
Ben's smile grew as he looked at Debra. "Debbie-girl."
Deacon cocked an eyebrow at that. His sister had always told him how much she hated nicknames. But this one seemed to make her glow.
He watched his sister launched herself into Ben's arms. Brotherly instincts flared at the thought of a grown man holding her like that. It didn't get better when he kissed her cheek.
When Debra stepped back, she retained hold of his hand. Deacon noticed how her entire being sparkled.
"Ben, this is my big brother, Deacon. Deacon, Ben Mooney."
His smile never slipped, nor did his hold on Debra's hand. Ben offered his other hand. Deacon shook it, pleased with the grip.
"Nice to meet you."
A brilliant smile showed off a slightly crooked smile. "And you. Your sister mentions you a lot."
Debra blushed. Behind them, other women looked at Ben and his sister with a mixture of expressions. He ignored them, focusing on the two before him.
"She's a good sister, I guess."
Ben laughed, full-bodied and true. "I get that. God do I. I have one too. But this one has joined in all the trouble my sister causes. I look at her as my own sister now. Hope that doesn't bother you."
"Not at all. She can always use more eyes on her."
"Hey," she protested.
"We were going to grab some dinner. Do you have plans or would you like to join us?" The affection between his sister and Ben was blatant. They could talk later if she wanted, but right now, he was enjoying the sparkle in her eyes.
"If you're sure it's not an imposition, I would love to. Kind of a thing we do, but I know you just got back." Deacon raised an eyebrow. Ben shrugged. "My sister, the other one, told me. I think she and Debra talk daily."
"Sometimes more than once," she snarked.
"Let's go then." Deacon liked him already and looked forward to getting to know him better.
Buy Links
About the Author
Hayden West lives in the Pacific Northwest, enjoys being outdoors, and hanging out with friends when not working on the next novella to be released. Find Hayden at their website and blog.
Giveaway
Enter for the chance to win a $50.00 First for Romance Gift Card!  
Notice: This competition ends on 2nd November 2021 at 12am EST. Competition hosted by Totally Entwined Group.