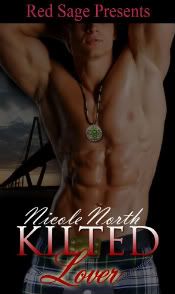 By Nicole North
Whether historical, contemporary or paranormal, most of the stories I've written feature a man using a weapon at some point. Maybe it's because I like a lot of action, suspense and adventure with my sizzling romance. But, let's face it; a man who has a weapon and knows how to use it is hot. Not because I'm a fan of violence. I'm not. But I do like a hero who is protective of those he loves or cares about. And actually capable of protecting them.
What kind of weapons are we talking about? For my historical heroes, from 17th century Scotland, their weapon of choice is usually a basket-hilted broadsword. They're much shorter and easier to carry around than the two-handed Highland sword. Gavin, the hero of my novella, Devil in a Kilt in Secrets Volume 27 Untamed Pleasures uses both. But of course it depends on whether the scene is a battle scene, skirmish, practice, or whether he is using it for general defense while traveling. At home (in a castle,) the swords and other weapons were usually kept in the armory instead of all the men carrying around swords, axes and pistols all the time, unless they've just been out fighting the enemy. But my Scottish heroes usually have a sgian dubh, dirk or dagger well within reach at all times.
Since early types of pistols were in use by the 15th and 16th centuries, my heroes sometimes use those as well, especially the Scottish snaphaunce belt pistols, sometimes made in matched pairs. But they can only get one shot off from each pistol, then they must charge in with their swords.
Showing a hero in action with his sword or other weapon is fun and exciting, so I always try to show that he knows how to use this weapon. It isn't just for display. Something equally great is a man who can use his hands as weapons, such as in martial arts or simply punching someone out.
Back through history and prehistory, men were the main ones who protected and defended the social group. We see a man who can do this as strong, capable and confident. We want to be under his protection because he knows what he's doing.
This is not to say women can't do the same thing, because they can, of course. I love to have my heroines use weapons and save the day too. And the hero admires her for it, but does feel a bit sheepish that he didn't accomplish it before she did. A hero who can protect his woman and fight alongside her is great to have around.
In my latest erotic romance novella, Kilted Lover, the hero is a modern day, hot, muscular, kilted guy who finds his warrior roots. He's thrown into a dangerous situation in which he must protect the heroine from two villains, not once but twice. Definitely the kind of man I'd want protecting me!
What about you? Do you like sexy, alpha heroes bearing weapons (or using his hands as weapons)? Which is your favorite type: Medieval knights, Highlanders with huge swords, Western gunslingers, modern day cops, some other type? What about them draws you in? One commenter will win a copy of my erotic romance novella ebook, Kilted Lover.
Click to read a chapter one excerpt of Kilted Lover
Visit my website: www.nicolenorth.com
Blurbs
Devil in a Kilt: A trip to the Highland Games turns into a trip to the past when modern day Shauna MacRae touches Gavin MacTavish's 400-year-old claymore. She finds the Devil in a Kilt she's had erotic fantasies about for months. Can she break the curse imprisoning this shape-shifting laird and his clan before an evil witch sends Shauna back to her time and takes Gavin as her sex slave?
Watch the Secrets 27 book video.
Kilted Lover: When kilted cabertosser Scott MacPherson tosses Leslie Livingston over his shoulder to rescue her from two armed thieves trying to steal her priceless amulet, they are thrust into a deadly but sexy adventure. Though Leslie already has a lukewarm, uninterested boyfriend, her attraction to Scott is whitehot and undeniable. She wants to lick this tall, muscular alpha male all over and explore the depths of eroticism with him. But will he want anything more than one night once the danger is behind them?

Watch the Kilted Lover book video.

Bio: Nicole North's erotic romance novellas have been described by reviewers as "exciting, high octane, captivating, scintillating, sinfully delicious and pure romance." Her stories contain "heart and heat, killer love scenes, magic and extraordinary characters." Her latest release from Red Sage, Kilted Lover, is contemporary erotic romance novella with a touch of paranormal. Her first story, Devil in a Kilt is in the anthology Secrets Volume 27 Untamed Pleasures, out now from Red Sage. The second novella in the series, Beast in a Kilt, will be in Secrets Volume 29. Her works have finaled in over a dozen writing competitions and won several awards. She is a member of Romance Writers of America and three chapters. She teaches online workshops about various aspects of writing, including sexual tension and how to write great love scenes. Though she has a degree in psychology, writing romance is her first love. She and her husband live in the Southeastern US, but she wishes she lived in the Scottish Highlands at least half the year. Visit her website at: www.nicolenorth.com