My Forever Home by Debbie Burns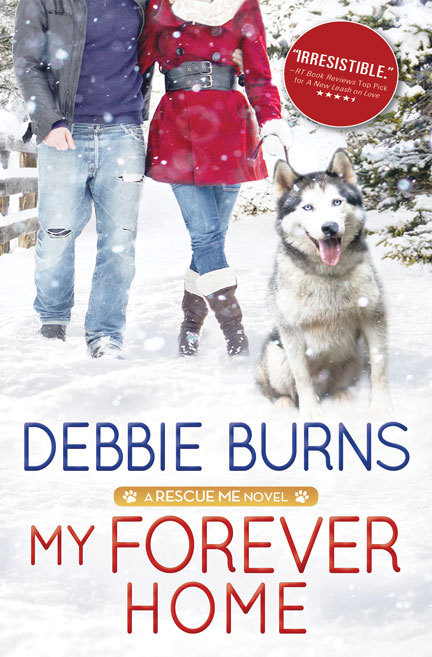 In Debbie Burns' MY FOREVER HOME, Vet school drop-out Tess Grasso dreams of having her own pet therapy business, but she meets one disastrous obstacle after another. There's no denying she has a way with animals, so in the meantime she puts her skills to use at a local no-kill shelter. Between helping her furry companions and a budding relationship with fellow dog lover Mason Redding, Tess begins to find fresh confidence…
---
Love comes to the rescue.
Vet school drop-out Tess Grasso dreams of having her own pet therapy business, but she meets one disastrous obstacle after another. There's no denying she has a way with animals, so in the meantime she puts her skills to use at a local no-kill shelter. Between helping her furry companions and a budding relationship with fellow dog lover Mason Redding, Tess begins to find fresh confidence…
What Tess doesn't know is that Mason is recovering from an accident, hoping to get back to his pro-baseball career. He's afraid the truth will ruin everything—and he's right. But in the midst of hurt and betrayal, a free-spirited stray Husky enters their lives, and teaches them a few things about faith, love and forgiveness.
Excerpt:
It was time to get out, but Tess didn't want to leave. She unbuckled her seat belt but didn't move. "So, the laptop. I don't know that I can accept it."
A single crease lined Mason's forehead. "You lost yours helping me. I wanted to do it."
"If I keep it," Tess said, "I'd like the chance to make it up to you."
The lopsided smile that made her heart wallop reappeared. "What're you thinking?"
"John Ronald. I want to help you catch him."
His smile fell as quickly as it had popped up, and he studied her face in the glow from the dashboard instruments. Tess wanted to know what he was thinking. She didn't know him well enough to guess.
It was too dark to see the color of his eyes, but Tess was hungry to. She'd already memorized what a perfect mixture of blue and green they were.
"The dog may not be lost," she continued before the last bit of her nerve slipped underneath the seat, "but I'm not entirely sure that means he's found. When I saw him tonight, I got the feeling that he wants to come to you, but he's afraid. You're probably hoping he'll let you catch him, but that's a jump he might not know how to make. Life is hard for strays. Really hard. And if animal control catches him, who knows what kind of chance he'd have."
Mason thumped the side of his thumb against the top of the console as he seemed to consider her words. "I'd like that," he said finally. "And your offer takes the pressure off me to figure out the best way to tell you that I want to see you again."
It had been on the tip of her tongue to add that she'd had some experience catching strays, but words fled. Tess bit her lip to keep her jaw from dropping to the floor.
"So, yes, I'll take your help. Gladly," Mason said. "And I'm going to try really hard to stay true to form and act like you offering this and not something less personal didn't just hit home deeper than you could know."
Tess shook her head. What could he possibly expect her to say in return?
"So instead," he continued, his smile reappearing, "I'll admit that while I've never gone on a real stray-dog hunt, I suspect it'll work up an appetite even in someone as petite as you, and I'll offer to make dinner."
"I'm, uh, a vegetarian." That's your answer? That's the best you can do?
His smile widened. "That rules out the three meals I claim to have mastered at the most basic of levels, but I'm up for a challenge. What night's good for you?"
Tess pressed down her delight. He wanted to make her dinner. "How about Thursday after work? As long as it isn't raining. He'd likely be hunkered down in the rain, and it's unlikely we'd find him in the same spot as yesterday."
"Perfect. I'll pick you up. Six thirty all right?"
Tess heard herself agreeing. Instead of dinner and a movie, it was dinner and dog catching. So much for a cute pair of boots and a skirt to undo the image of the dorky pants-rolling of earlier.
"I wrote this in the card, but my grandma threw away the cup with your number on it. I should've said so earlier, but that's why I rode to your place. I didn't want you thinking I wasn't appreciative about the laptop. It'll probably be a few days before I get a new phone, but my grandma's number is in the card if you need it."
"I'm glad you came over, but I'm pretty sure my number is on a slip of paper on your grandma's fridge. She asked if you had it and when I told her I'd written it on a cup, she said cups were no place for phone numbers and had me write it on a piece of paper."
Tess clicked her tongue. "She knew I was looking for a cup after I found the laptop. You'd think she'd have told me that before I dashed out."
"If you ask me, it worked out pretty well that she didn't." For a split second, Tess got the feeling that he was about to lean in to kiss her, but then he shifted farther away and pushed open his door and headed for her bike.
"Good luck tomorrow," he said, hooking his thumb into his jeans pocket after it was down.
Tess thanked him. She remembered a flash of the dream she'd awoken to, the one in which she'd been kissing him and he'd been holding back. It hardly seemed possible that she'd only met him yesterday. If he was holding back, it was the right thing to do. How off the wall was it that if he had kissed her, she'd have kissed him right back?
Her last boyfriend had been someone she'd connected with mentally and emotionally, but not physically. They'd been dating for nearly a month when Tess had realized that every time he leaned in to kiss her, she had to keep herself from pulling away.
She couldn't imagine wanting to pull away from Mason.
What was she doing? Get it together, Tess.
She looked toward the house. "My grandma's probably waiting. I'll see you Thursday?" She forced a step toward the driveway; it just didn't turn out to be very large one.
"Six thirty," he repeated. "And I'll have takeout cued up on my phone in case dinner sucks."
Tess laughed. "Can I bring something? Dessert?"
"Just your sweet self."
Her mouth went dry. She didn't think in all her life she'd ever wanted to be kissed as much as she did now. The urge was ridiculous but impossible to suppress. Then she remembered the taut, enticing muscles in his arms, chest, and shoulders and took off toward the driveway. "Thanks again for the ride."
"Anytime, Tess Grasso."
As she headed up the driveway, Tess was left to contemplate how Nonna must have told him her last name. And he'd remembered it.
Rafflecopter:
Author Bio:  Debbie Burns' writing commendations include a Starred Review from Publishers Weekly and a Top Pick from RT Book Reviews for A New Leash on Love, as well as first-place awards for short stories, flash fiction, and longer selections. Her hobbies include hiking, gardening, and daydreaming, which, of course, always leads to new story ideas. She lives in St. Louis with her family, two phenomenal rescue dogs, and a somewhat tetchy Maine coon cat who everyone loves anyway.