On the Wings of War: Soulbound V by Hailey Turner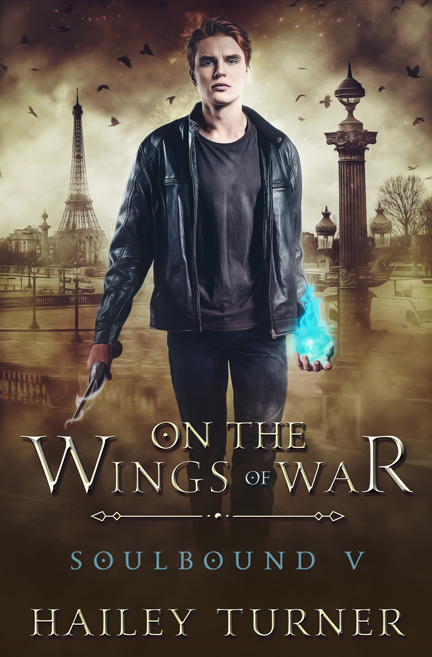 Praise for The Soulbound Series:
Hailey Turner never disappoints! The Soulbound series continues in On The Wings of War with Turner's unique and compelling world-building, beloved characters including Wade the ever-snacking cutie pie, and the same kind of page-turning action we've come to expect from a Hailey Turner story. Whenever I read a Soulbound novel, I come out of it feeling smarter and a little bit breathless, like if I looked behind me there might be a tiny bit of magic and dragon smoke wafting in the air. I can't recommend this new Hailey Turner novel enough. Grab it now! – Bestselling author, Lucy Lennox
With every new book in the Soulbound series, I ask myself how Hailey Turner could possibly top this, and in true Patrick style, challenge accepted. Each book in this series is even better than the last, and I'm absolutely in love with these characters. I can't get enough of Patrick, Jono, Wade, and On the Wings of War is an adrenaline-fueled adventure you don't want to miss! – Bestselling author, Charlie Cochet
---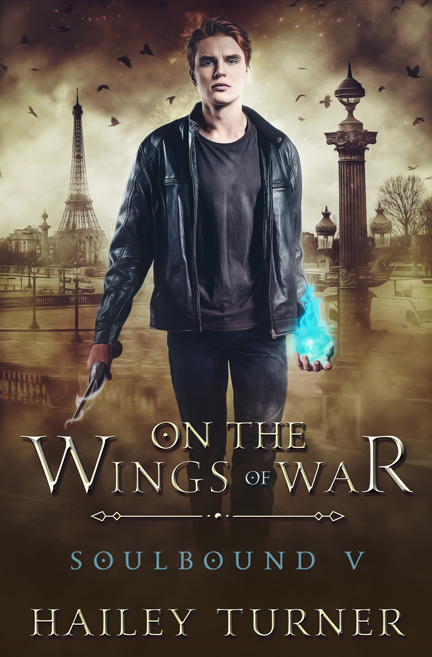 Remembering the dead will always give them life.
The coveted Morrígan's staff is up for sale on the black market to the highest bidder, and SOA Special Agent Patrick Collins will do whatever it takes to ensure the Dominion Sect doesn't get their hands on it. Returning the weapon to its rightful owner is another step on the long road toward clearing Patrick's soul debt, but he won't walk it alone. Jonothon de Vere won't let him.
Obeying the gods means Patrick must travel to London. For Jono, it means facing a past he thought he'd left behind forever. His return to England isn't welcome, and neither is their pack, but Jono and Patrick will face the antagonism together. Politics aside, their priority must be the mission, but the bone-chilling secret they uncover in the London god pack will have far-reaching repercussions no one can ignore.
A race against time takes Patrick and Jono from the streets of London to the bright lights of Paris, where hospitality is thin on the ground, the air is filled with whispered prayers for the missing, and the Morrígan's staff will end up in the one place it should never have gone—a graveyard.
For beneath Paris lie the long-forgotten dead, and when they rise to walk again, the living can only hope to die.
On the Wings of War is a 109k word m/m urban fantasy with a gay romantic subplot and a HFN ending. It is a direct sequel to A Vigil in the Mourning. Reading the first book in the series would be helpful in enjoying this one.
Get it now
Excerpt:
"How will you even know if Rossiter is around?" Jono asked.
Patrick didn't lift his head away from where he had it leaned against the window. "Same way I know when demons are around. My magic will tell me."
"What does it feel like?"
"Like I need to gargle with alcohol to get the taste of hell out of my mouth. Why?"
"Just curious."
If Patrick was shielded, Jono couldn't tell when Patrick was using his magic unless he used the soulbond to tap a ley line. The connection between them wasn't always open, but it was tighter than it had been last summer. Part of it was due to the torn open hole in Patrick's soul and the deeply buried connection he had with Hannah. The soulbond had spread deeper into their souls to block that connection since Chicago, but Patrick hadn't figured out how to sever his tie to Hannah yet.
Some days, Jono wasn't sure Patrick even wanted to.
Patrick had a lot of guilt where his sister was concerned. Jono hadn't raised the issue about the connection tying the twins together and what to do about it because that was a minefield he had no map for.
"So we're just burning petrol whilst you"—Jono lifted a hand off the steering wheel and wiggled his fingers—"go abracadabra?"
Patrick smacked Jono in the shoulder, but he was laughing as he did so. "Fuck you, that's not what I'm doing."
"Could've fooled me."
"You're lucky you're cute." Patrick's mobile beeped with an incoming message. He lifted his hips to pull it from his pocket and check it. "Hey, is there a grocery store or butcher shop somewhere we can get a bone?"
Jono glanced at him, not sure what to make of that question. "A bone?"
"Yeah. Spencer reminded me I owe Fatima a bone."
"Isn't he on the plane? Shouldn't he be sleeping?"
Patrick shrugged, typing away at the screen. "Who knows with him, but Fatima isn't one I'd like to piss off."
"His partner?"
"His psychopomp."
Jono returned his attention to the road. "Ah."
"Don't worry, she's harmless." Patrick paused. "Mostly."
"Mostly," Jono repeated dryly.
Patrick lowered his mobile but didn't put it back into his pocket. He reached up with his other hand to set a silence ward in the car, static buzzing Jono's ears. "There's something I wanted to tell you."
"Sounds serious."
"It's about Spencer's kind of magic. It's within the family of necromancy."
"You told me that already. I said I don't mind."
"He cleaves souls apart. I think he could maybe undo the soulbond if that's something you wanted."
Jono drew in a sharp breath, jerking his head to the side despite the traffic on the road. He stared at Patrick's profile for a second before wrenching his gaze back around. "What the bloody fuck gave you the idea that's something I want?"
"Because you didn't have a choice—"
"I'm going to stop you right there," Jono interrupted. "We've been over this. What's done is done, and I don't regret what ties us together."
"I'm offering you a possible way out."
"I don't want it." Jono swallowed, fingers tightening on the steering wheel. "Unless you do?"
"No," Patrick admitted, and the utter honesty in his scent put Jono at ease. "But it's something I had to offer you, knowing what I know about Spencer and his magic. He'll know about the soulbond the moment he sees us."
"Then tell him to keep his gob shut, and we'll be fine."
Patrick cracked a smile, but it appeared strained when Jono glanced at him. "He knows how to keep a secret."
"Good." Jono reached over and settled his hand on top of Patrick's, sliding their fingers together. "I don't know how to make it more clear, Pat. You're all I want, soulbond or not. I love you. That's never going to change."
Patrick lifted their linked hands so he could kiss the back of Jono's. He didn't say anything, but he didn't need to. Jono could smell the tangle of emotion on him that settled into something pleased and relieved, and that was all that mattered.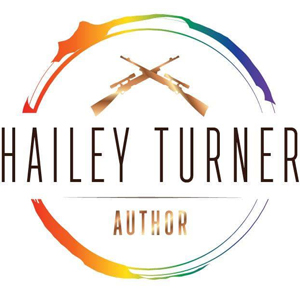 About the Author: Hailey Turner is big city girl who spoils her cats rotten and has a demanding day job that she loves, but not as much as she loves writing. She's been writing since she was a young child and enjoys reading almost as much as creating a new story.
Connect with Hailey Turner:
Giveaway: to celebrate the release of On the Wings of War by Hailey Turner, we are giving away three e-books to kindle email addresses from Hailey Turner's back catalogue. Open internationally, must be 18 to enter and win.