Q&A with Kat Martin, author of BEYOND DANGER
Comments Off

on Q&A with Kat Martin, author of BEYOND DANGER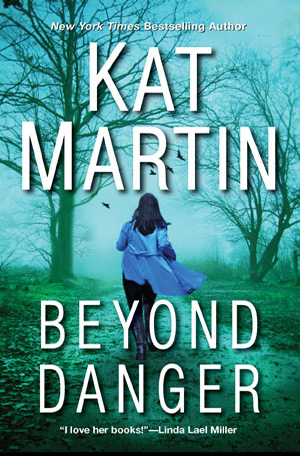 New York Times bestselling author Kat Martin brings page-turning suspense to a tale of secrets and passions turned deadly . . .
 
Texas mogul Beau Reese is furious. All six feet three obscenely wealthy, good-looking inches of him. His sixty-year-old father, Stewart, a former state senator no less, has impregnated a teenager. Barely able to contain his anger, Beau is in for another surprise. It appears that Stewart has moved an entirely different woman into the house…
"Kat Martin's Texas Trilogy returns with a gripping new romantic suspense novel… Cutting edge and incredibly thrilling, Martin once again proves she's a romantic suspense mastermind! Book two, BEYOND DANGER, is compelling with unexpected twists. Long-time fans of Kat Martin will not be disappointed!"- RT Book Reviews, 4 Stars
---
I am so glad you could join us here at Romance Junkies. To start, will you please tell us a little bit about your current projects?
I've been really busy lately…finishing up my next book, Beyond Control, Josh Cain's story, which has really been fun to write.  In November, I have a novella out that features Jonah Wolfe, a private investigator who works at Maximum Security, which is where Cassidy Jones works, the heroine in Beyond Danger.   My first Hardcover will be set around Chase Garrett, the owner of Maximum Security, out in January of next year.   
When was the moment that you knew you had to be a writer?
I started a novel, a historical romance called   Magnificent Passage.  I don't think I had written more than  twenty pages before I realized writing was what I wanted to do.  I felt a true calling as I wrote that book.  That hasn't changed in the last 30 years.  
Who gave you the one piece of writing advice that sticks with you to this day?
Be persistent.  Don't give up.  It's the key to being a successful writer.  The obstacles you will face are huge: bankrupt companies, crooked agents, market changes.  Persistence is the key.   
Describe the "perfect" hero. What about the "perfect" hero for you?
The perfect hero is gorgeous and built, but those are only surface qualities.  He's got to be tough, honest, loyal, and courageous.  Smart and trustworthy.  He has to be a one-woman man.  Forever. 
What are some of your favorite pastimes? Do you have any hobbies or collections?
I've been trying to find a hobby all of my life.  I used to snow ski and water ski, but that seems to have waned over the last few years.  I still love to travel.  Trying to decide where I would like to go next.  I love great hotels and fancy restaurants!
What has been your biggest adventure to date?
Traveling to Alaska in the back of a pickup camper.  We were there for a month, traveling the back roads, camping every night.   We have done it twice–it's a fabulous adventure.
If your fairy godmother waved her wand and whisked you away to the location of your choice, which place would you choose, and why?
That's easy.  Paris!  All the things I love.  A gorgeous city, great hotels, fabulous food.  And traveling through the countryside is beautiful and fairly easy.  France is my favorite country in the world.
When it comes to food, are you the adventurous type who will try anything once, or do you prefer to stick to tried and true foods and recipes?
I'm fairly open-minded when it comes to recipes, foods in various countries, but I won't eat bugs and things inside the bodies of animals.  Yuck.     
What is the one modern convenience that you cannot do without?
My computer!
What is your idea of the ideal romantic evening?
Dressing up–completely formal would be my first choice. Then a limo to a wonderful restaurant, fine champagne followed by a great meal, then a walk along the Seine.  Wind up in a beautiful suite, go to bed and make fabulous love till morning.  
Any place we can find you in person or on the net this month or next?
I'll probably be on the internet, promoting my book, but I'm not sure where.  I'm on Facebook at lot.  Kat Martin author.  Love to spend time talking to readers.
Thanks again for blogging with us!
---
Beyond Danger … where secrets and passions turn deadly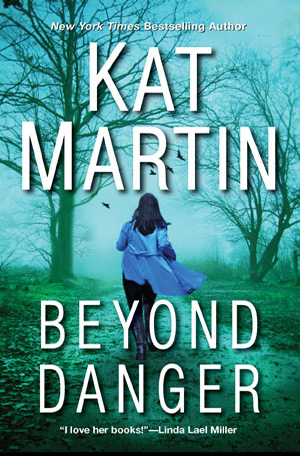 Texas mogul Beau Reese is furious. All six feet three obscenely wealthy, good-looking inches of him. His sixty-year-old father, Stewart, a former state senator no less, has impregnated a teenager. Barely able to contain his anger, Beau is in for another surprise. It appears that Stewart has moved an entirely different woman into the house…
 
Beau assumes that stunning Cassidy Jones is his father's mistress. At least she's of age. But those concerns take a sudden backseat when he finds Stewart in a pool of blood on the floor of his study—and Cassidy walks in to find Beau with his hand on the murder weapon.
 
The shocks just keep coming. Someone was following Stewart, and Cassidy is the detective hired to find out who and why. Now she'll have to find his killer instead. Her gut tells her it wasn't Beau. And Beau's instincts tell him it wasn't Cassidy. Determined to track down the truth, they form an uneasy alliance—one that will bring them closer to each other—closer to danger and beyond . . .
Amazon:
https://www.amazon.com/Beyond-Danger-Texas-Trilogy-Martin-ebook/dp/B0725DXN9Y/
Barnes & Noble:
https://www.barnesandnoble.com/w/beyond-danger-kat-martin/1126362566?ean=9781420143171#/
Kobo:
https://www.kobo.com/us/en/ebook/beyond-danger
Google Play:
https://play.google.com/store/books/details/Kat_Martin_Beyond_Danger?id=vuXEDgAAQBAJ
Itunes:
https://itunes.apple.com/us/book/beyond-danger/id1231931639?mt=11
"Martin takes readers on a well-plotted roller-coaster ride with her sexy suspenseful second Texas Trilogy romantic thriller…Martin excels at creating multidimensional, appealing rogues and the strong sexy women who fall for them, and this novel is no exception…This nail-biter of a romantic thriller will delight." – Publishers Weekly
Readers can find Kat at the following places: