Researching Columbia by Kat Martin--THE CONSPIRACY
Comments Off

on Researching Columbia by Kat Martin–THE CONSPIRACY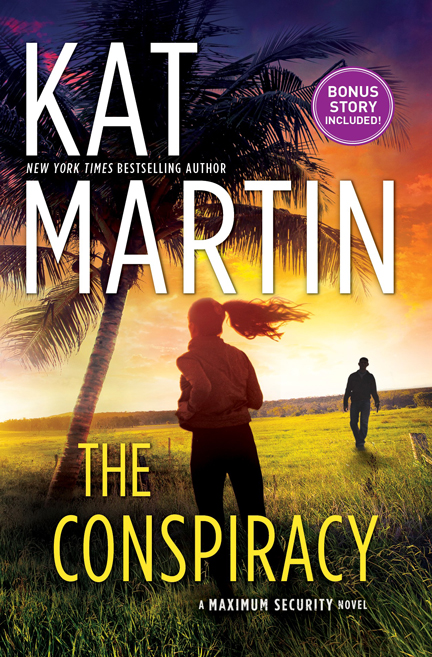 In THE CONSPIRACY, by Kat Martin, Harper Winston's brother has disappeared.  Desperate, Harper turns to P.I. and owner of Maximum Security, Chase Garrett. But dealing with the Winston crime family won't be easy. Time is running out. Chase must keep Harper safe…and both of them alive.
When family ambition turns deadly Chase Garrett must keep Harper safe and both of them alive.
---
Researching Columbia
Sometimes what you think is going to be a great idea for a novel turns out to be a whole lot of work!  That's what happens when you realize the idea you are now in the middle of isn't going to work the way you thought it would.
In THE CONSPIRACY, I got the idea for a book that started in Texas, moved to the Caribbean, and ended up in Venezuela.  With all the trouble country is having, I thought it would be a great setting for a Romantic Thriller. 
Unfortunately, after I was well into the book and started doing the necessary research for that segment of the story, I realized the geography I needed and the rural setting didn't exist in Venezuela.
I spent days digging around in South America, looking for a rainforest that could be reasonably reached from the Caribbean island of Aruba.  Nothing worked. 
Finally, I realized there actually was spot that exactly fit the image in my head.  (This happens to writers all the time.  No one knows why.) The spot was in Columbia, a place I had no desire to write about, but fit the story exactly. 
So I went to work researching a remote area of Columbia accessible from Aruba. 
Chase Garrett, the hero of THE CONSPIRACY, with the help of Harper Winston, the woman who hires him to find her missing brother, wind up in extreme danger in the Columbian tropical forest.  It's a very unusual place that required hours of research, but in the end, it was worth it.
I had my work cut out for me, finding which animals, reptiles, and birds lived in the area.  Reading about the customs of the indigenous tribes, and the politic.  Rebel armies inhabit the forest and they don't like intruders. 
The research made THE CONSPIRACY one of the most challenging books I've written, but hopefully it's one of my most interesting.  I hope you'll look for THE CONSPIRACY, out in paperback July 30th, the first of my Maximum Security series, and that you enjoy. 
Until next time, very best wishes and happy reading,
Kat 
---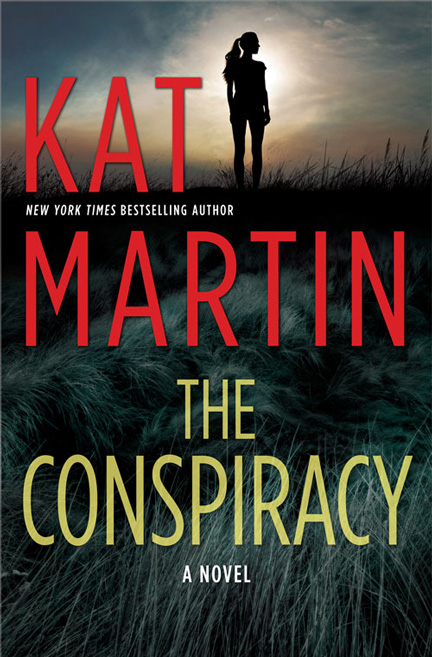 Harper Winston's brother has disappeared. Pursuing his dream of sailing the Caribbean, Michael hasn't responded to texts or emails in days. When even the Coast Guard can't find him, Harper is forced to take desperate measures. Which means going to Chase Garrett, once her brother's best friend, now the only man she can trust…or so she hopes.
As the successful owner of Maximum Security, Chase has learned to trust his gut. He knows Harper's father is mixed up in a deadly business, and suspects there's more to Michael's disappearance than meets the eye. Getting involved again with the Winstons goes against everything he stands for, yet old loyalties die hard. As the case draws him closer to Harper and deeper into the Winstons' snarled crime family, he is forced to put everything on the line to keep Harper safe…and both of them alive.
Buy Links:
Excerpt:
In the throes of wild monkey sex with Harper Winston, Chase awoke covered in a film of perspiration, an unwelcome throbbing beneath the sheet.  Cursing, he sat up in bed and ran a hand over his face.  Only a dream.  Or in this case, a nightmare. 
He shoved his fingers through his sweat-damp hair.  Jesus God, he couldn't remember a dream that had felt more real.  Or ever being more aroused. 
Swearing foully, he rolled out of bed.  His brother Bran would get an I-told-you-so laugh out of his misery, but Chase didn't find his unwanted attraction to a Winston the least bit funny.
Not when Harper's father ran his world much like a Mafia don, a highly successful criminal enterprise that allowed him to get away with murder–literally.  Everyone in the Dallas underworld knew that to cross Knox Winston might get you dead.  The DA's office turned a blind eye, along with the dirty cops on Knox's payroll.
Aside from the legitimate businesses Knox now ran–from motels, restaurants, and laundries, to larger enterprises like hotel chains, no one really seemed to know how Knox had actually amassed his fortune.  Since his son had once been Chase's best friend, Chase didn't want to know, either.
He wondered how much Harper knew about her father's activities.  Not much, he would guess, since Knox had gone to great lengths to keep his children under the illusion he was just a mega-successful businessman.  And Harper had been gone from Dallas for years.
Chase had a hunch Michael had suspected, that it was part of the reason he had turned to alcohol and drugs, but they had never talked about it. 
Padding naked into the bathroom, he reached into the shower and turned on the water, setting the temperature a little colder than he liked.  He wanted to wash Harper's beautiful face out of his head, the memory of her small, perfect breasts that–thank God–he had never actually seen.
Pulling on his jeans and a short-sleeved yellow Oxford shirt, he was ready to meet with Dutch, who had arranged a boat to Curacao.  They could have gone by plane, but he wanted the flexibility to check, if necessary, other spots around the island once they got there. 
He wished he was going by himself instead of dragging a woman into what might turn out to be a bad situation.  But as he walked into the living room, Harper came out of the other bedroom, straw hat in hand, dressed and ready to go.  His mind flashed back to the hot, erotic dream, and a shot of lust hit him like a fist.
Chase dragged in a lungful of air and forced himself to think of something else.  Palm trees might have worked if she hadn't walked close enough for him to catch a whiff of her soft perfume. 
"Good morning," she said.  "Sleep okay?"
Jesus God, help him.  He didn't want to think of the dream, refused to allow his mind to slide back into the gutter.  Chase had never been more grateful to hear his iPhone ring. 
Pulling his cell out of his pocket, he recognized Tabby's number and pressed the phone against his ear.  "What have you got for me, Tab?"
"Pia's phone pinged at the Zee Winden Marina in Curacao, same as Michael's.  Both phones are now inactive."
Not good.  He could contact the authorities in Curacao, but he could probably be there before the investigation–such as it would likely be–actually got underway.  And once he got the police involved it would limit what he would be able to do.
"Anything else?"
"Not at the moment.  If I get something I'll call."
"Thanks, Tab.  You're the best."  Chase hung up the phone, his mind back on the case.  In his business, the job had to come first.  People's lives depended on it.    
"What did she say?" Harper asked.
"Zee Winden Marina in Curacao, same as your brother.  Call Christy and tell her, then pack an overnight bag.  We might not get back tonight."
So saying, he grabbed the duffle, now packed, he had brought empty in his carryon, something smaller, a little easier to manage.  Just a dupe kit, clean underwear, a dress shirt and slacks, high-topped boots and cargo pants, things that might be useful as they moved into uncharted territory, where his search for Michael might lead. 
A few minutes later, Harper walked back into the living room carrying the colorful oversized canvas bag she had carried onto the plane.  It was stuffed full and zipped shut ready to go.  She had pulled her hair into a pony tail, but flyaway pale blond strands floated around her face, gleaming like pale spun gold. 
The heat returned to his groin.  Dammit, what was there about her?
---
New York Times bestselling author Kat Martin is a graduate of the University of California at Santa Barbara where she majored in Anthropology and also studied History. Currently residing in Missoula, Montana with her Western-author husband, L. J. Martin, Kat has written sixty-five Historical and Contemporary Romantic Suspense novels. More than sixteen million copies of her books are in print and she has been published in twenty foreign countries. Kat is currently at work on her next Romantic Suspense.
Social Media: