Ruby Fever: A Hidden Legacy Novel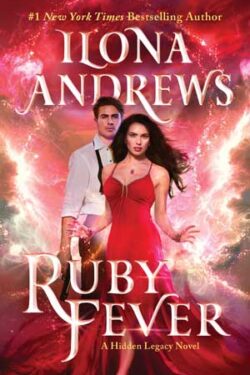 Author

Ilona Andrews

Release Date

August 23, 2022

Publisher

Avon

ISBN/ASIN

9780062878397

Our Rating

Reviewed by

SJ
Our Review
#1 New York Times bestselling author Ilona Andrews ends the bestselling Hidden Legacy series with RUBY FEVER. And it's a blast! There's a lot going on, so readers should really start at the beginning of this trilogy with SAPPHIRE FLAMES to get Catalina Baylor's full story arch. Though the publisher has tied all six stories in the Hidden Legacy series together, the first three following Nevada Baylor, Catalina's older sister. So to get the full picture, start the whole series with BURN FOR ME.
When we last left the Baylors, Catalina was in charge of House Baylor and is working as the Deputy Warden. She had recently paired up, romantically, with handsome, anti-stasi Prime Alessandro (swoon!) The enemy—Arkan—had been revealed. Nevada, Catalina's sister, had recently given birth. And their evil grandmother, Victoria, remained in prison, a kind of forced mentor for Catalina.
RUBY FEVER has a lot to live up to, and I'm happy to say it delivers! There's an awful lot going on though, with a bevy of characters and plot points needing resolution. So though the story is wonderful and resolves everything needing a resolution, it's… a lot. The romance definitely takes a backseat to all the action, and it would have been great to see more of the family working together–Leon and Bern, Arabella, Grandma Frieda–but with so much going on around Catalina, I understand why the authors stuck to her and Alessandro. 
This book will satisfy Ilona Andrews's fans for sure. It's a terrific end to an incredible series built on magic and world-building with rich characters you can't help but root for. I'm only sorry the series had to end. Also, I read this twice and got so much more out of it, along with a greater appreciation, the second time. And I'm sure I'll be reading it again and again in the future. The authors create such wonderful characters!!!!!
Well worth it, fun, and satisfying, House Andrews delivers with RUBY FEVER!