Sabrina Jeffries--The Danger of Desire & Giveaway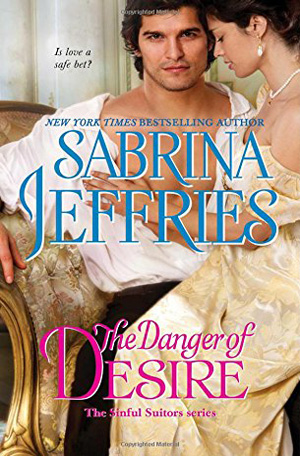 New York Times bestselling author Sabrina Jeffries releases the third book in her sexy Sinful Suitors Regency romance series–THE DANGER OF DESIRE. As usual, Jeffries packs humor, sexual tension, and adventure into an unforgettable historical romance. Readers new to the series will have no problem reading the book as a standalone, while those following the series get the book they've been looking forward to. Not to miss!
---
The Danger of Desire by Sabrina Jeffries

To root out the card cheat responsible for her brother's death, Miss Delia Trevor spends her evenings dancing her way through high society balls, and her late nights disguised as a young man gambling her way through London's gaming hells. Then one night, handsome Warren Corry, the Marquess of Knightford, a notorious member of St. George's Club, recognizes her. When he threatens to reveal her secret, she's determined to keep him from ruining her plans, even if it means playing a cat-and-mouse game with the enigmatic rakehell.
Warren knows the danger of her game, and he refuses to watch her lose everything while gaining justice for her late brother. But when she starts to delve beneath his carefully crafted façade, can he keep her at arm's length while still protecting her? Or will their hot desires explode into a love that transcends the secrets of their pasts?
Buy Links:
Amazon – https://www.amazon.com/Danger-Desire-Sinful-Suitors/dp/1501144448/
B&N – http://www.barnesandnoble.com/w/the-danger-of-desire-sabrina-jeffries/1123497204?ean=9781501144448
Kobo – https://www.kobo.com/us/en/ebook/the-danger-of-desire-2
iBooks – https://itunes.apple.com/us/book/the-danger-of-desire/id1091028971?mt=11