Sally Brandle—THE HITMAN'S MISTAKE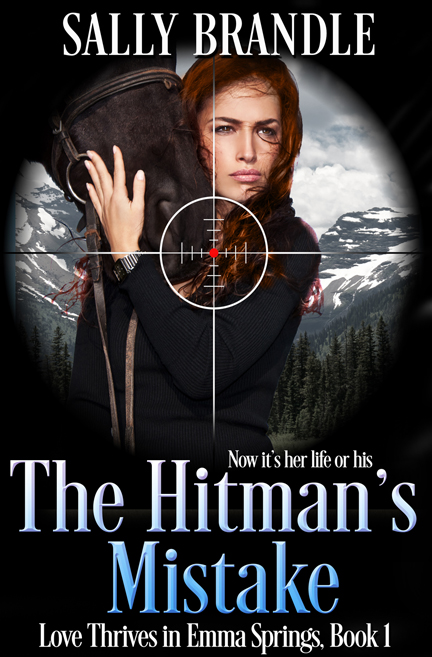 Multi-award winning author Sally Brandle weaves slow-burning romance into edgy suspense, encouraging women to trust their inner gifts. In THE HITMAN'S MISTAKE, when Miranda Whitley stops crooked cops from assassinating a prominent Seattle judge, she's next on the hit list, and her survival depends on the man she's had one awkward encounter with—buff FBI Agent, Grant Morley. But can she find him in time?
---
What is an inner gift, you may wonder? Here's a thought-provoking definition of 'unique gift', which nails the concept:
By Laura Berman Fortgang 10/4/2012 www.huffingtonpost.com
"Everyone has a unique gift — something that is just undeniably "you" and is precisely useful to those around you. It's much more than a skill — it is an ingrained strength fueled by your deepest passions, and nurtured by an unwavering sense of purpose. Most people never find their unique gift, either because they don't realize they have one, don't believe they have one, haven't attempted to find it, or don't recognize it when it is staring them in the face."
The Hitman's Mistake, the opening story of the Love Thrives in Emma Spring series, shows my heroine's inner gift of observation, keenly honed in her attempt at an inconspicuous lifestyle. Boy does that change when a bullseye is placed dead center on her back and she needs to partner with a hero. Fast.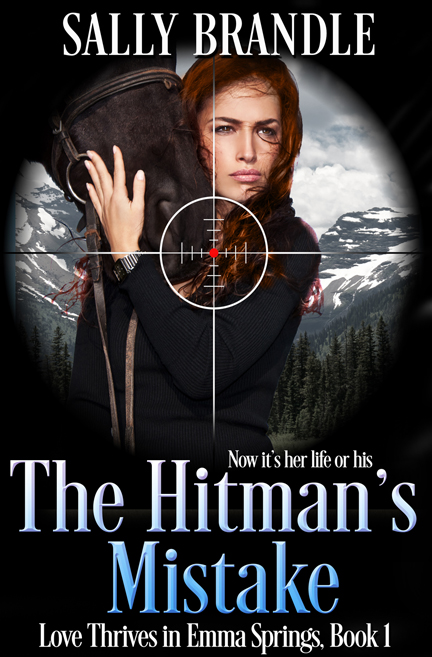 The Hitman's Mistake by Sally Brandle
Series title: Love Thrives in Emma Springs
Soul Mate Publishing www.soulmatepublishing.com
ISBN:  #978-1-68291-714-5 (for Kindle)
Publication date: June 8, 2018
She needs his trust. After Miranda Whitley stops crooked cops from assassinating a prominent Seattle judge, she's next on the hit list, and her survival depends on the man she's had one awkward encounter with—buff FBI Agent, Grant Morley. But can she find him in time?
He needs the truth. The last person Grant expects to discover on his annual horseback trip delivering supplies to a Montana mountain hermit is alluring Miranda Whitley, nearly dead from a bullet wound in her side. An accidental witness or the cold-blooded accomplice to would-be assassins?
Miranda must convince Grant of her innocence, evade the killers intent on preventing her testimony, and fight her unwanted attraction for the agent…an attraction which seems to be mutual. Fortunately, love thrives in Emma Springs. If you love sizzling chemistry, determined assassins, and Montana scenery, then you'll love Sally Brandle's galloping thriller.
EXCERPT:
Setting: Our heroine's pruning indoor plants in the lobby of Seattle's Justice Building after hours.
***
Squeaks from her mom's old pruning shears echoed in the large, vacant room. She pulled another uneven limb of the Chinese Elm closer to her face and squinted. While she clipped, a peppery fragrance released from the wood.
A twig grazed her cheek, making her flinch. She brushed the neckline of her purple T-shirt with the back of her hand.
The place threw off the vibes of an abandoned morgue. Chill. She released the limb, let out a long breath, and grabbed a lop-sided branch from overhead. Tonight, even a rude prosecutor's voice rupturing the tranquility would be welcome.
Not happening this late, but Ike would be descending in the elevator any minute. Hopefully in a better mood than when she'd watered the jade plant in his judge's chambers earlier. He'd been tense, without the fatherly banter he doled out when she visited him and his wife, Shirley.
Soft taps came from a few feet behind her. She tilted her head.
Footsteps? From the stairwell? Miranda released her grip, and the tree limb sprang free. She swung her head and watched the branch skim the fly of the trousers on the man now towering over her right shoulder.
Not Ike. She froze.
"What in the hell? Oh, didn't see you there—" he sidestepped, and her cup scrunched in protest under his big boot. The lid popped off and the double shot of Kona glugged into a mocha-scented pool.
He jumped to avoid the puddle. "Damn energy conservation put you in the shadows. Sorry, I nailed your coffee." His swinging backpack missed her nose by inches.
She twisted her body and scooted her butt until her shoulder jammed against a carved pot.
"I didn't mean to frighten you."
"It's okay," she mumbled, keeping her head lowered to avoid further contact with the bag-wielding klutz wearing black trousers. Must've been him she'd glimpsed a few minutes ago, while the elevator doors had closed on the floor below Ike's.
"I've never been attacked by a branch. Must say, you deployed it well," the deep voice announced. He stopped directly in front of her.
His hiking boots made her size-nine high-tops appear dainty.
Not the shoes of a snobby lawyer or a lost, post-trial pimp trying to find his way out of the building. Still, the flailing branch served him right for sneaking up on her. "I didn't hear you."
"And I shouldn't text and walk," he said in a lighter, almost sexy tone. "I'm Grant." He dropped his pack and stuck out his hand.
An FBI tag printed 'GRANT MORLEY' hung from the bag.
She peered from under her cap's brim and gulped.
Him.
Agent of Interest. Her heart took off at a gallop.
Where to find Sally: