Samantha Chase's UNTIL THERE WAS US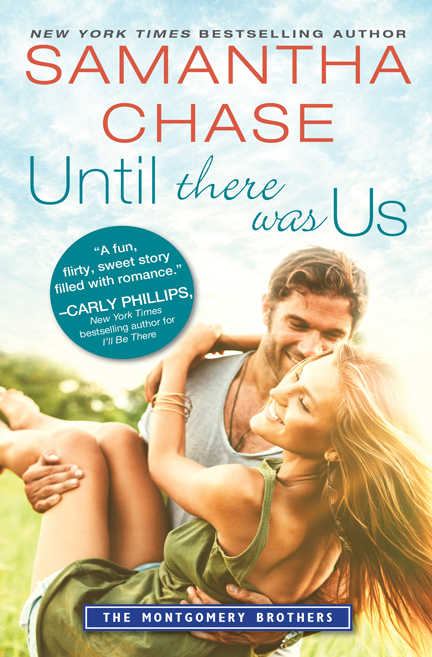 In Samantha Chase's UNTIL THERE WAS US, Alex has been living the good life. He loves his job, has a great circle of friends, and doesn't answer to anyone. The problem? There's only one woman he wants and she ran out on him after one amazing weekend. But now that Megan's coming back to town, Alex hopes he can convince her to take another chance on him…and on a future that can only be built together.
---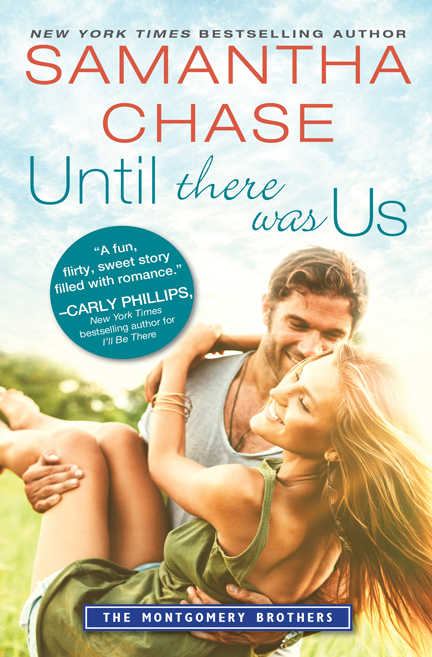 UNTIL THERE WAS US by Samantha Chase
He'll have to play his cards just right for her to take a chance on him…
Megan Montgomery has always been careful…except that one time she threw caution to the wind and hooked up with a sexy groomsman at her cousin's wedding. But that was two years ago—so why can't she stop thinking about Alex Rebat?
Alex has been living the good life. He loves his job, has a great circle of friends, and doesn't answer to anyone. The problem? There's only one woman he wants and she ran out on him after one amazing weekend. But now that Megan's coming back to town, Alex hopes he can convince her to take another chance on him…and on a future that can only be built together.
BUY
EXCERPT
Tugging at the hem of her dress for the hundredth time, Megan silently cursed the fact that she'd let her mother talk her into it. The navy-blue fabric clung to every ample curve and was shorter than the dresses she normally wore, and all in all, she was feeling very self-conscious about the whole thing.
She was surrounded by family and knew she shouldn't be feeling anything but happy to be here, but old insecurities still lingered. Okay, maybe they had resurfaced thanks to her ex constantly harping on her about losing weight. Megan wasn't fat—she knew that—but she was definitely not slim. She envied her cousin Summer. She had the kind of body Megan had always wished she had—slim—and she looked good in everything. Whereas Megan had to worry about how every article of clothing she had would fit or if it would be too clingy.
Another tug at the hem of her dress as she looked around to see where Summer was. They didn't get to see each other nearly enough and maybe…
"Excuse me?"
Megan turned and saw the most attractive man she had ever seen in her life. He was tall with sandy-brown hair and a smile that seemed almost too perfect. She swallowed hard, convinced he couldn't possibly want to talk to her.
"Would you like to dance?" he asked, and Megan's heart beat wildly in her chest.
She looked around and wondered whether someone had put him up to this. But he didn't look the least bit insincere. If anything, he seemed slightly amused by her confusion.
She cleared her throat and nodded. "Um…yes. Thank you."
His smile broadened, and it was almost lethal. He had dimples too. She had to stifle a sigh when she noticed them.
"I'm Alex Rebat," he said, extending his hand to her. "I'm a friend of Zach's. And you are?"
Blushing because his voice was as magnificent as the rest of him, she replied, "I'm Megan Montgomery. Zach's cousin."
She shook his hand, but he didn't release hers. Instead, he led her onto the dance floor where a slow song was playing. At first, Megan felt a little self-conscious about dancing with a stranger, but as soon as Alex gently wrapped his arm around her waist, all negative thoughts disappeared.
They swayed together to the music as if they'd danced together for years.
They talked as if they'd known each other forever.
And they were both more than ready to move off the dance floor and find someplace quiet to talk after their fourth dance.
Alex kept her hand in his as he led her from the banquet room to the lobby and finally out to the garden. The sun had gone down, and the entire area was lit with hundreds of soft-white twinkly lights. To Megan it looked like something out of a fairy tale while she felt like she was living in the middle of one.
Hand in hand they walked along the paths as Alex told her about his job as a physical therapist, and the more he spoke, the more she wanted to know about him. He had confidence and passion as he spoke about his work and his life, and she found herself hanging on his every word. And when he asked about her—her job, her life—she felt inferior in comparison.
So she'd given him a brief overview of her IT career and her life in Albany before turning the conversation over to him. The smile he gave her told her he knew what she was doing.
"Not big on talking about yourself, huh?" he asked with a knowing smile.
Megan blushed as she shook her head. "There isn't much to tell. My job is fairly boring compared to yours. What you do really makes a difference in people's lives—and after seeing all you did for Zach, I'm in total awe of you."
They stopped walking, and Alex moved so he was standing in front of her. "Don't," he said, his voice a little gruff. "Zach did all the hard work. I was merely there to help. Not every case is as successful as his. He had the drive to do it, and he worked hard to make it happen."
Both his words and his voice were so intense that Megan was overwhelmed with the urge to reach out and touch him—not just hold his hand but…soothe him. Comfort him.
And she did.
Reaching up with her free hand, she gently caressed his face and heard his sharp intake of breath. This wasn't her—she didn't do things like this, wasn't this forward—and yet she couldn't help herself.
"Megan," he said softly as his head lowered toward hers.
She wasn't an overly romantic person and didn't believe in things like this actually happening, and yet the instant Alex's lips touched hers, Megan swore she saw fireworks. Normally she was a little more timid, inhibited, but something about Alex changed that. Wrapping her arms around him, she melted against him—reveling in the heat of his body, the feel of his lean frame against hers. The feeling must have been mutual because she heard a low growl come from him as he pulled her even closer.
Never before had she been kissed like this—it was the kind of kiss that started slowly, and they both sank into it until it kept going and neither wanted it to end. Megan's hands raked up into his hair, and when they were finally forced to break apart for breath, in only a matter of seconds they dove in for another taste.
For a few glorious moments, they had been cocooned in their own little world out in the garden, but it didn't take long for other wedding guests to start coming out and walking around, and the mood was broken. Alex never stopped touching her though—everywhere they went her hand was in his, and she found she was thankful for the constant connection.
Over the course of the wedding reception, they danced again and talked and laughed, and Megan was nearly bristling with anticipation by the time Gabriella threw the bouquet. At that point, she knew she and Alex could leave. When she noticed other guests getting up to go, she looked over at Alex and said, "So…"
He was sitting beside her, and the expression on his face told her everything she needed to know.
He wanted to leave.
And he wanted to leave with her.
Casually they walked around and said their goodbyes separately. Out in the lobby, Alex took her by the hand—or maybe that time she took his—and they made their way down the massive hallway that connected the banquet hall to the hotel. Several times Megan had looked around to make sure no one saw them—and not because she was embarrassed but because she didn't want the interruption. If she didn't get Alex alone soon, she swore she'd spontaneously combust!
The ride in the elevator seemed to take forever, and she swore the walk to her room was a mile long. But once they were inside and the door was closed?
Perfect.
RAFFLECOPTER GIVEAWAY