Susanna Ives How to Impress a Marquess: Spotlight & Giveaway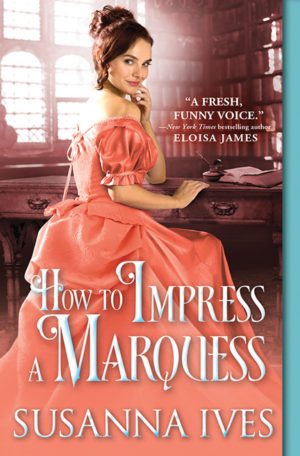 Susanna Ives: I didn't title my book. I just called it "book" or "that &*%$! book" during its writing. My publisher came up with the catchy HOW TO IMPRESS A MARQUESS. However, for the first third of the book, my heroine, Lilith Dahlgren, couldn't care less about impressing George, Marquess of Marylewick, and told him as much on numerous occasions. Hmmm, so maybe that should be my first "way" to impress the marquess.
---
5 Ways to Impress a Marquess
Have a healthy disregard for the marquess' opinion. After all, Lilith is a strong woman who knows her own mind. She doesn't need some starchy marquess telling her what to do, how to behave, and what to think. The only reason she must interact with him is because he's her trustee and keeps a tight handle on her purse strings.
Make the marquess a villainous sultan in your work of fiction. It is possible that Lilith was been attracted to the marquess all along. Why else would she have created such a sexy villain in her popular serialized story, which she published under a pen name? Even better, make a fictional heroine who is your alter ego. Through her fictional heroine Collette, Lilith puts into print all the tender parts of herself that she can't show to George. Have your marquess fall in love with your fictional alter ego but never let him know that he is the villain. Warning: this is a very dangerous course and could later blow up in your face.
Wear tight clothes and flowing robes to entice him. This actually could be considered a subpoint of point two. Writing a story requires Lilith to sit for long periods of time and eat loads of toffee to fuel her creative brain. This really wreaks havoc on that famed Victorian waistline. Poor Lilith is popping her stays to fit in her clothes, so she usually flounces about the house in comfortable robes or shifts.
Dig into a painful secret from the marquess' boyhood to reveal his true sensitive heart beating beneath the fusty exterior. For example, discover that he was once a talented artist who quit painting after numerous spankings ordered from his disapproving father. Force the marquess to face his old secrets and personal demons. Lilith finds George's hidden boyhood art and tricks him into looking at it again. Of course, digging into a marquess' past might not impress but anger him, so proceed with caution.
Love the marquess, not for his title, wealth, estates, or societal position. Love him with all your being for his kind heart and beautiful spirit. This is the most impressive point of them all.
♥
How to Impress a Marquess
Series: Wicked Little Secrets, #3
ISBN: 9781402283635
Pubdate: November 1, 2016
Genre: Historical Romance
TAKE ONE MARQUESS: Proper, put-upon, dependable, but concealing a sensitive artist's soul.
ADD ONE BOHEMIAN LADY: Creative, boisterous, unruly, but secretly yearning for a steadfast love, home, and family.
STIR in a sensational serialized story that has society ravenous for each installment.
COMBINE with ambitious guests at an ill-fated house party hosted by a treacherous dowager possessing a poison tongue.
SHAKE until a stuffy marquess and rebellious lady make a shocking discovery: the contents of their hearts are just alike.
Take a sip. You'll laugh, you'll swoon, you'll never want this moving Victorian love story to end.
Preorder Links
Amazon: http://amzn.to/2ekZ9q0
B&N: http://bit.ly/2dArlqC
iBooks: http://apple.co/2e8lrQC
♥
Susanna Ives started writing when she left her job as a multimedia training developer to stay home with her family. Now she keeps busy driving her children to various classes, writing books, and maintaining websites. She often follows her husband on business trips around Europe and blogs about the misadventures of touring with children. She lives in Atlanta.
Website: http://susannaives.com/wordpress/
Facebook: https://www.facebook.com/SusannaIvesWriter
Twitter: @SusannaIves
Goodreads: https://www.goodreads.com/author/show/4201035.Susanna_Ives