The Big Secret of Getting Published
(Charlotte Hughes is the best selling author of  over 40 novels, although she is best known for her FULL series which she coauthored with friend Janet Evanovich. Her newest release NUTCASE involves Atlanta psycho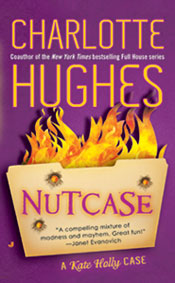 logist Kate Holly, who learns that the life of a psychologist is enough to drive you nuts. It launches today, Feb 24th. You can read more about it at her website http://www.readcharlottehughes.com)
When I became interested in writing, some twenty-five years ago, I began taking classes, attending conferences, and reading everything I could get my hands on that would teach me the craft of writing. At the very first conference I attended, I met an author who had actually published – gasp – 14 books! Holy cow! I was in awe. I wanted to wash her feet in Chanel and dry each toe with my hair. Why? Because I wanted to know her Big Secret to getting published.
I gave her the titles of all the how-to-write books I'd read, told her about the class I was attending, and how I'd just joined RWA.
 "That's nice," she said, "but you have to write your book."
"Yes, but how do I know it will sell?" I asked. "I don't know what editors are looking for, and everybody says the market is glutted. And what if I do sell the book and it's published and nobody buys it? I can't afford to promote it. And what if, like some authors have complained about, my editor leaves and my book is orphaned? And what if—"
By this time the writer's eyes had glazed over. "You just have to write the book," she repeated.
Oh. Well, easy for her to say, I thought as I walked away. Editors were probably dying to receive her next book, but I was a nobody in the publishing world. And she probably didn't have a job and young children and a husband who traveled a lot, pretty much leaving me to fill two roles.
Woe was me, for sure!
 Nevertheless, I went home, sat down at my typewriter, only to suffer an anxiety attack at the sight of the blank page before me. Again, I was assailed with doubt. No way could I write an entire book!
But. . .
I could maybe write one page per day. Or maybe three pages per day. I could aim for writing a chapter! Breaking it down into smaller goals was less overwhelming. And I had to stop worrying about rejection because I would never be able to write if I thought about that!  
I began writing the book. What else could I do? I had characters clamoring to tell their story, and they weren't going away. 
 It wasn't easy. There were a lot of stops and starts and interruptions. Sometimes it felt as if the whole world was trying to steal my precious writing time. There were days that I could only write half a page, but I kept going because I was determined not to let anything stop me. I wrote and rewrote. I revised and then I revised some more.
Because I was so bogged down in my story, I had no idea that I was learning one of the Big Secrets that all professional writers knew. While conferences, classes, how-to-write books, critique groups, and the such, are invaluable tools, the real test is disciplining yourself to actually write. Nobody can do that for you.
Eventually, the words turned into sentences that turned into pages that turned into chapters until – gasp – I held a completed manuscript in my hand!         
The bad news? My book was rejected. Sure, I cried. I wanted to toss my typewriter into the nearest Dumpster and never write again. But there was a whole new cast of characters and a story unfolding in my head. I had to pick myself up and start all over again.
Thus, I learned another Big Secret that professional writers knew. Perseverance. You can be the most talented writer in the world, but if you can't get your story down on paper it doesn't count.
The good news? I sold the second book to Bantam's Loveswept line. TOO MANY HUSBANDS arrived on bookshelves in 1987, and I went on to write almost 30 books for them before I moved from category romance to single titles.          
 My sons are now grown, and I write full time; but each day I have to draw on what I learned early on – again, those words, discipline and perseverance. It doesn't matter if you've written one book or one hundred, those two ingredients are absolutely necessary to carry you through because even bestselling authors will tell you they have starts and stops, anxiety and doubt, and that the business of publishing can be as topsy-turvy as a carnival ride.         
For those who dream of writing or are just starting out, I would offer this advice. You may have read similar suggestions, but it never hurts to be reminded. 
Set up a Time Budget. Just as we have to budget our finances – yeah, right, like I can keep a financial budget – we have to budget our time. Look closely at your schedule. You may have to give up things you like in order to make time for writing. Once you set up your writing schedule do everything you can to stick to it. Some writers work a certain amount of hours per day; others set a quota of pages they must write before they turn off their computer. Do what works for you. I've heard it takes 21 days to form a habit. Create good habits.  
Put your goals, short- and long-term on paper and read them daily. Make sure your goals are achievable.  
Learn the trade. While you can't learn how to write until you start writing, it is important to have guides. Read the types of books you want to write and check books out at your library so you can learn the fundamentals of writing. 
Join a writer's organization or a critique group. Writing is one of the most solitary jobs that exist. I know because I'm pretty much a recluse. It's not healthy. Also, please don't give your first chapter to your best friend or your mother to read. They love you and they're going to love what you write. You won't learn what you need to learn if you don't interact with other writers. Now, this is where I get on my soapbox. If a published author decides to read and critique your work or give you a quote for your newly published book, please remember to show your appreciation. One way you can do that is to go to his or her book signing. Even better, grab a couple of friends and take them with you.  
Keep a notepad handy. When you create, you generate more ideas. Jot them down before you forget them because they may come in handy later. 
Buy a bulletin board and pin affirmations to it. Again, writing is very solitary. There are no pats on the back at the end of the day. It is easy to become discouraged, and even depressed, when your writing isn't going well. 
Don't talk about your ideas – write! Talking about ideas won't get you published. 
Believe in yourself! Everybody has heard about the laws of attraction. If you think positive thoughts you'll draw positive energy. If you're filled with negativity and a lack of self-confidence, that's what you'll draw. Even if you have to fake it for a while, fake it, but never stop believing. 
Do NOT let anyone steal your dreams! I once read that a now famous author handed her story to an English professor and asked this person's opinion. The professor told the aspiring writer she had no talent. Excuse me? You have talent or you wouldn't be          writing in the first place. Fortunately, the new writer ignored the professor and became a star! 
Don't worry about the market. The market changes constantly. Write your book.
Let nothing stop you. Most, if not all writers have received rejection slips. Toss them in the trash and keep writing! 
Lastly, never begrudge another writer's success.  Sure, it's natural to feel envious when your friend sells her book for a ton of money or makes a list. Some writers do strike gold on their first book, making the of rest us, who have 'paid our dues,' so to speak, groan. Don't let envy turn to jealousy turn to bitterness. While it is okay to have a competitive spirit, make sure it's healthy. The surest way to draw in negativity is to resent another author's success. We're all in this together. Celebrate that author's good fortune because it's much easier to write your own book if you're not harboring ill will toward another colleague. Besides, you might just be the next bestseller! 
        Now that you have more advice than you'll probably ever need, put my suggestions away and, you guessed it, write your book!
(Charlotte's Virtual Book Blog Tour VIRTUALLY NUTS is just getting started.  Leave a comment on this post and you're entered in a drawing for a free autographed book. For more information visit her blog GROUP THERAPY at http://blog.readcharlottehughes.com)