The Night the Lights Went Out #Giveaway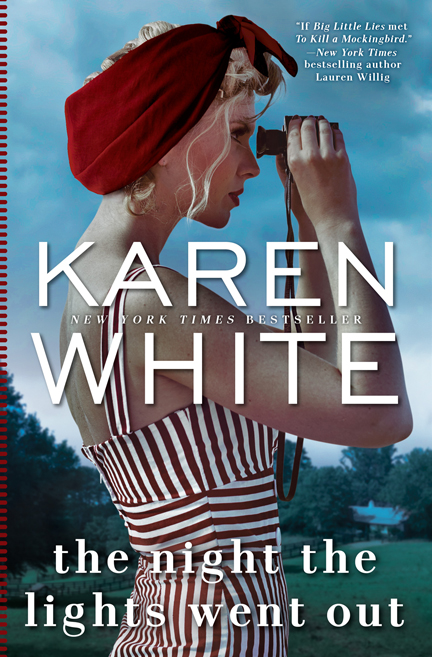 Set in the gilded realm of Sweet Apple, Georgia, THE NIGHT THE LIGHTS WENT OUT  by Karen White achieves a magnetic sense of place, and with good reason—it is the first novel White, the "Queen of southern fiction" (Huffington Post), has set in her own community, the affluent suburbs of Atlanta.
White says: "I was sitting at a stop sign in my town behind a large white SUV and the license plate read YERSERV. . . and the whole Atlanta tennis­­–suburban mom–thriller idea came to me. . . . I realized perhaps for the first time that my hometown had a past and a story to tell."
---
Berkley Trade Paperback | March 27, 2018 | ISBN: 9780451488404| $16.00
To win a paper copy of THE NIGHT THE LIGHTS WENT OUT by Karen White, simply comment on this post. Winner drawn 4/18.
In THE NIGHT THE LIGHTS WENT OUT, recently divorced Merilee Talbot Dunlap moves with her two children to Sweet Apple, Georgia. It's not her first time starting over. But her new beginning isn't helped by an anonymous local blog that reveals for the whole town the scandalous affair that caused her marriage to fail. And Merilee's new landlord, the proud, irascible, Atlanta born-and-bred 93-year-old Sugar Prescott, certainly isn't helping.
But off Sugar's property, Merilee finds herself swallowed into Sweet Apple's most elite ranks—its inner circle of wealthy school moms—thanks to her blossoming friendship with the belle of the town, Heather Blackford. But behind the tennis whites, shiny SUVs, and immaculate women, lurk generations of secrets and resentments. And Merilee quickly learns that, in a town where appearance is everything, sins and secrets can be found in equal measure in the dark woods on Sugar's property, and within the gated mansions of her newfound friends . . .
♥
THE NIGHT THE LIGHTS WENT OUT is what would happen if ABC's Revenge followed the machinations of Southern PTA moms instead of Hamptons elite.  For readers of Dorothea Benton Frank, Mary Alice Monroe, and Pat Conroy, this novel delivers everything her readers love and more.
About the Author
Karen White is the New York Times bestselling author of more than twenty novels, including the Tradd Street series, The Night the Lights Went Out, Flight Patterns, The Sound of Glass, A Long Time Gone, and The Time Between. She is the coauthor of The Forgotten Room with New York Times bestselling authors Beatriz Williams and Lauren Willig. She grew up in London but now lives with her husband and two children near Atlanta, Georgia.