The Ones Who Got Away by Roni Loren
Comments Off

on The Ones Who Got Away by Roni Loren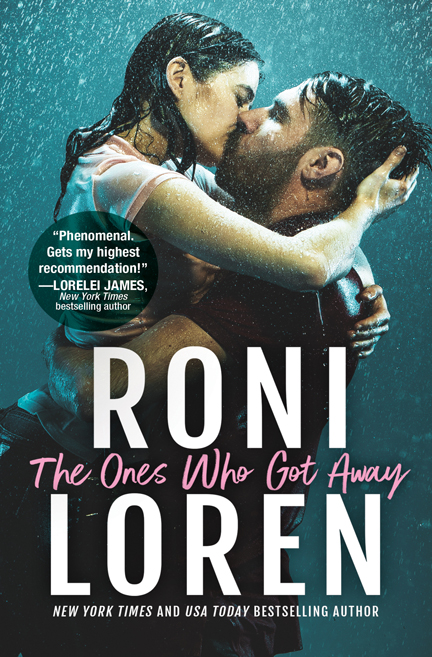 THE ONES WHO GOT AWAY by Roni Loren
"Phenomenal. Gets my highest recommendation!"
—LORELEI JAMES, New York Times and USA Today bestselling author
It's been twelve years since tragedy struck the senior class of Long Acre High School. Only a few students survived that fateful night—a group the media dubbed The Ones Who Got Away…
---
THE ONES WHO GOT AWAY by Roni Loren
It's been twelve years since tragedy struck the senior class of Long Acre High School. Only a few students survived that fateful night—a group the media dubbed The Ones Who Got Away…
Liv Arias thought she'd never return to Long Acre—until a documentary brings her and the other survivors back home. Suddenly her old flame, Finn Dorsey, is closer than ever, and their attraction is still white-hot. When a searing kiss reignites their passion, Liv realizes this rough-around-the-edges cop might be exactly what she needs…
Liv's words cut off as Finn got closer. The man approaching was nothing like the boy she'd known. The bulky football muscles had streamlined into a harder, leaner package and the look in his deep green eyes held no trace of boyish innocence.
https://books.sourcebooks.com/the-ones-who-got-away/
Excerpt:
Finn rubbed a hand over the spot where his scar was in what looked like an absentminded gesture. "I signed up for a gun-safety course as soon as I healed so I could deal with the fear."
Liv rubbed the chill bumps from her arms. "That must've been ridiculously hard."
He gave a humorless laugh. "The first few weeks, all I could do was sit there and watch other people do target practice. Listen to the sounds. Let the panic come and force myself not to run. It sucked. But then I met this cop who offered to help me. She pushed me, and I started to get used to handling the gun and began to train." He focused on a spot somewhere over her shoulder like he was seeing the memory play out on a screen. "She taught me how to switch off the emotion of it. It's going to sound ridiculous, but it became like football used to be for me. One mission. No emotion attached to it. Get the ball into the end zone. But this time it was hit the target. It was the only thing that helped."
"Jumping into the fire."
"Yeah. But it was the best thing I could've done. Learning from Eileen, the officer I met, seeing how confident and dedicated she was, made me want to do the same thing. When I eventually went into the academy, I was ready. I had to go through simulations where people would attack me or come at me with a weapon over and over again, in a hundred different ways. It diluted the power of my fears because now I had the skills to protect myself and the people around me."
She leaned back against the headboard, impressed and a little awed. "So no one is going to catch you off your game again."
His lips kicked up at the corners, some of that old arrogance breaking through. "Let's just say it's probably not going to go well for them if they try."
She laughed, his playful smirk helping some of her jittery feelings dissipate. "Now I see it. I couldn't picture you with a badge, but there it is. Cocky Finn does law enforcement."
"What? Afraid I couldn't pull it off?" He lifted an eyebrow, his face stern. "Ma'am, can you please step out of the vehicle? Hands where I can see them."
She bit her lip. Of course with his authoritative tone, her mind put him in a uniform and some aviators. She'd never had a particular fetish for men in uniform, especially after her own run-in with the police. But the thought of Finn wearing a uniform and manhandling her a bit had her reconsidering. She would definitely get out of the vehicle. Maybe even let him cuff her. And as inappropriate as the thought was, considering the circumstances, it was a welcome respite from her nightmare. She cleared her throat. "I think you pull it off just fine."
His dimple appeared beneath the stubble. "You're blushing, Arias."
"I am not." She tipped up her chin. "I'm just…still flushed from all the adrenaline."
"Uh-huh. Or you've got a secret cop fetish."
"Stop flirting." She pointed a finger at him.
"Am I flirting?" he asked innocently.
"Yes. And that's not allowed. You yourself said that kiss was a mistake. So don't come prancing around here half dressed with your Batman abs and talking about where to put my hands. No one likes a tease, Dorsey."
His grin turned roguish. "I said that kiss was a mistake, not a regret."
"Finn."
"And Batman abs?" He grabbed the lapels of the robe like he was going to open it and check. "These old things?"
She stretched out her leg and kicked his thigh. "Stop it. You're terrible."
He lifted his palms in surrender and laughed. "At least you're smiling now."
"Yeah, well, there's that."
Even after all the years that had passed, Finn still seemed able to get her mind off things. When her mom was going through chemo and everything was doom and gloom at home, Finn could somehow figure out ways not just to make her laugh, but to do so in a way that didn't make her feel guilty for feeling a moment of happiness.
She leaned forward, bracing herself on one hand, and planted a kiss on his cheek. "Thank you."
"For what?"
She looked up, meeting his gaze, and realized how close she still was. Close enough to see the flecks of gray in his green eyes, close enough to kiss him. She wet her lips. "Being you. I've missed that guy."
His Adam's apple bobbed, his attention flicking to her mouth before sliding upward again. Her heart picked up speed, and his hand closed around her upper arm. "Liv…"
"I…" Whatever she was going to say died on her lips, because the way he was looking at her made her forget her words. There was want in those green depths—lust—but there was something else. Something that made her breath stall. Need mixed with something more dangerous. A wildness.
A curl of heat went up her spine, twining with unease. So much of her wanted to give in to it, to see what exactly was simmering between them. Just grab him and say to hell with it all and make the sheets even sweatier than they already were. But as much as he was drawing her in with that look, he was also warning her off. She didn't know how she got that sense, but it was there, loud and clear. Push me away. Run. He wanted her to stop this.
He'd told her outside what he had to offer—nothing but a one-night stand. And though right now that sounded all kinds of enticing, she wasn't going to go there. He didn't want this. Plus, even sober, it would be too close to how she'd handled her anxiety in college. She didn't need to chase away her nightmare with a hookup she'd regret in the morning. She wasn't that girl anymore.
"Finn." The word was strained.
"Yes?"
She swallowed past the dryness in her throat. "We should get my stuff moved. It's late."
He stared at her for a moment, and then his grip on her arm softened. His breath tickled her hair. "Right. Of course."