Tinsel and Tea Cakes by Jill Piscitello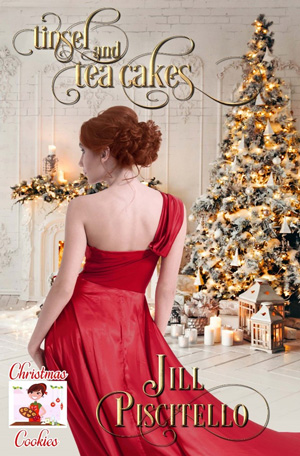 TINSEL AND TEA CAKES by Jill Piscitello 

Hair stylist Scarlett Kerrigan lost her job and her apartment. To alleviate a touch of self-pity, she succumbs to her stepmom's pressure to attend a wedding in the New Hampshire White Mountains. Unfortunately, she runs into the vacation fling who promised the moon but disappeared without an explanation. Months have passed, but she is not ready to forgive and forget…
---
Happy Endings
Is it any surprise that romance novels enjoyed an increase in sales during the pandemic? According to NPD BookScan, the first quarter of 2021 showed an increase of 1.2 million units. Some critics discount the genre because the stories often follow a formula, fall within a common list of tropes, and always end in happily ever after. Everyone is entitled to their opinion, and people's reading preferences vary widely. But in support of romance authors and readers everywhere, happy endings should be celebrated.
As a reader, my chosen genre at any given moment can range from a classic to a thriller to a mystery to self-help to literary fiction to magical realism to historical fiction—well, you get the picture. I'm often fully immersed in up to three books at one time and read according to my mood. But a tried-and-true romance is always in my current reading pile. Sometimes, cracking open a feel-good book is like throwing on your comfiest blanket.
To know that, despite a multitude of trials and tribulations, two people will end up together in the end is reassuring. Watching the characters navigate their story world to reach that point has a special kind of satisfaction. And the common tropes and formula? Well, consistency is part of the charm. Romance readers know what they want and expect to find a welcome familiarity on those pages.
To quote an oldie but goodie originally performed by Jackie DeShannon (lyrics by Hal David and music composed by Burt Bacharach), "What the world needs now is love, sweet love."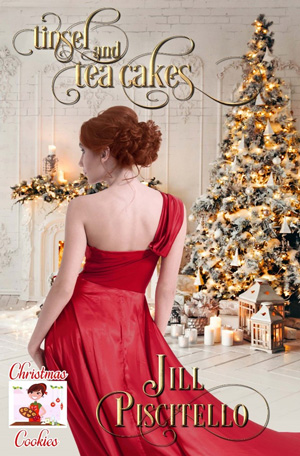 Author name:  Jill Piscitello
Book Title:  Tinsel and Tea Cakes
Genre:  Sweet, holiday romance
Hair stylist Scarlett Kerrigan lost her job and her apartment. To alleviate a touch of self-pity, she succumbs to her stepmom's pressure to attend a wedding in the New Hampshire White Mountains. Unfortunately, she runs into the vacation fling who promised the moon but disappeared without an explanation. Months have passed, but she is not ready to forgive and forget.
After a chaotic year, executive Wes Harley settles into his family's event venue, The Timeless Manor. His carefully structured world is shaken to its core when Scarlett arrives for the Victorian Christmas wedding weekend. The feelings he never quite erased flood to the surface.
When secrets are revealed, will a magical chateau and a sprinkle of tinsel be enough to charm Scarlett?
Purchase Links:
Excerpt:
Lights flashed in the side view mirror. Another car parked behind them, but snow blocked all visibility through the back window. Boots crunching through snow announced the hulking figure before he appeared at the door. A scarf and hat covered most of the stranger's face, and only a pair of emerald-green eyes peered in.
Scarlett inched down the window a crack. The possibility of this person being a deranged lunatic couldn't be overlooked.
"Scarlett?" The man stepped back and tugged down the scarf.
She knew that face and opened her mouth to speak but couldn't find a word. This day just kept getting better. Those eyes should have been the first clue, but never in her wildest dreams did she expect to see him again. The blur of memories racing through her mind dropped a throat-constricting concoction of confusion, hurt, and vile hope on her chest. "Wes."
"What are you doing here? Aren't you a little far from home?" A line formed between his eyebrows.
Clarice leaned forward to get a better glimpse of their potential knight in shining armor.
"More than a little." Coherent thoughts took shape in the form of questions and accusations. Every fiber in her being burned at the thought of asking him for help, but alternative options were few and far between. Who knew how long before roadside assistance arrived? Fine, maybe he'd get her out of this mess, but making small talk didn't need to factor into the exchange.
---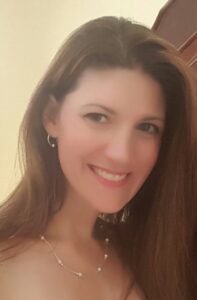 About the Author:
Jill Piscitello is a teacher, author, and an avid fan of multiple literary genres. Although she divides her reading hours among several books at a time, a lighthearted story offering an escape from the real world can always be found on her nightstand.
A native of New England, Jill lives with her family and three well-loved cats. When not planning lessons or reading and writing, she can be found spending time with her family, trying out new restaurants, traveling, and going on light hikes.
Social media links: