Top Book of the Year—MAGIC TRIUMPHS
Comments Off

on Top Book of the Year—MAGIC TRIUMPHS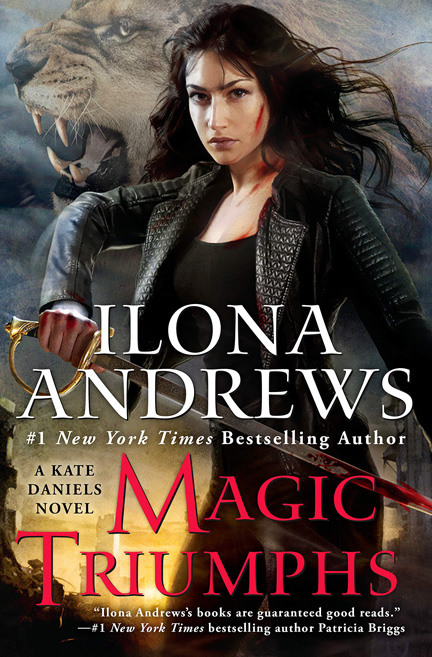 MAGIC TRIUMPHS by Ilona Andrews is the tenth and final book in the bestselling Urban Fantasy series, Kate Daniels. It was my privilege to read and review this book, and I nearly cried when it ended because I didn't want to say goodbye to this stellar series and wonderful characters.
This series is best read in order, starting with MAGIC BITES. I highly recommend it to anyone who loves paranormal romance, paranormal fiction, and urban fantasy. It doesn't get better than Kate Daniels and Ilona Andrews.
SJ, Romance Junkies
5+++ Hearts, RECOMMENDED READ
---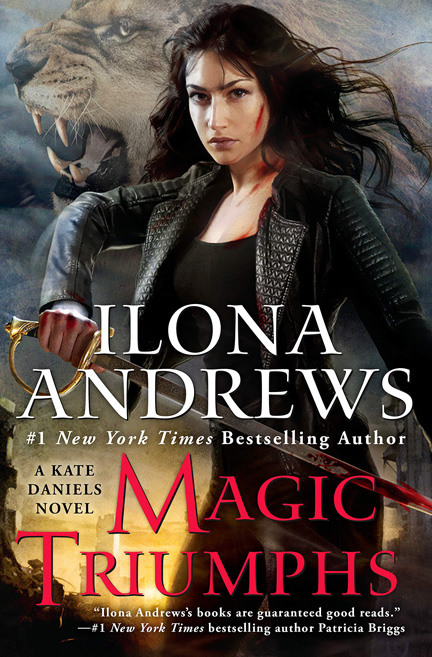 AUTHOR

 Ilona Andrews

RELEASE DATE

 August 28, 2018

PUBLISHER

 Ace

ISBN/ASIN

 978-0425270714

OUR RATING

 

♥♥♥♥♥

REVIEWED BY

 SJ
MAGIC TRIUMPHS, the tenth and final book in the Kate Daniels series, is a tour de force triumph itself! A perfect ending to one of the best Urban Fantasy series ever written. The characters remain true to themselves; the action is nonstop; the pacing is superb, and the ending is complete without feeling forced. (This story is best read as a conclusion to the series. If new to the Kate Daniels' world, I suggest starting with MAGIC BITES.)
Many series seem to tie up everything in a bow, wrapping everything up neatly for the reader in the final book. While this book does give a most satisfying conclusion, it's written so well that nothing feels spelled out, rather it's a natural progression of events the characters organically reach.
In this book, we see a (mostly) matured Kate with Curran, her husband and the former Beast Lord, and their adorable baby boy. The story has a brief prologue where we see the baby born, then cuts to two years later, which was very well done. Events have settled since the last book, with everyone falling into regular patterns.
Until, of course, a new villain emerges, one even scarier than Roland—Kate's father. The mystery of who these murderous creatures are and why they've come to Atlanta unfolds as the multifaceted world of Kate Daniels takes place. Familiar characters we've come to know and love throughout the series all play their parts. Julie, Derek, Barabas, Andrea, Roman, Saiman, Luther, Erra, even Nick and Hugh—HUGH—what a terrific part for him to play! And the family scenes, especially with Conlan, the baby, had me laughing out loud. Both heartwarming and funny, Kate's family and friends are the cornerstone of this series. 
The pacing is swift and steady, the build-up a delicious tension as Kate deals with the Witch Oracle's prophecies of doom and the knowledge that to beat her father, she'll have to kill him, and thus herself, for her friends and family to survive. There seems to be no way out, yet that doesn't stop the humor from spilling from the pages, a wonderful mix of danger and laughter that's organic to Kate and those around her. 
Ilona Andrews is one the most gifted writers out there today. The writing duo know how to show emotion through action and dialogue and never dumb down their writing. The fighting scenes make you feel like you're there, and their breadth of knowledge in both forensics and mythology (and even the made-up terms) is awe-inspiring. 
This is my top book of the year, and I'm only sorry to see beloved characters go. But there are still two more Hugh stories for Andrews to write, as well as a teaser that perhaps some characters from the Kate Daniels' world will continue in a spin-off series. Here's hoping! 
A TOTALLY RECOMMENDED READ!!!!  
(Note: MAGIC TRIUMPHS takes place after IRON AND MAGIC, which is Hugh's story. While you don't have to read IRON AND MAGIC to understand this book, it's most satisfying to have read Hugh's story first.)