When to Call a Cowboy by June Faver
Comments Off

on When to Call a Cowboy by June Faver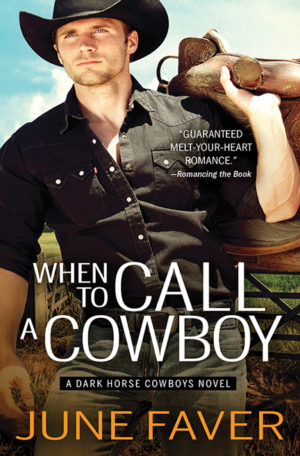 Rekindling old flames can be dangerous…
Beau Garrett may look rough around the edges, but under that exterior beats a heart of gold—a heart that was broken when his high school sweetheart disappeared days before graduation. Years have passed, but Beau's never forgotten the fiery-haired girl who left him high and dry…
---
When to Call a Cowboy
by June Faver
Publication Date: 4/30/2019
Rekindling old flames can be dangerous…
Beau Garrett may look rough around the edges, but under that exterior beats a heart of gold—a heart that was broken when his high school sweetheart disappeared days before graduation. Years have passed, but Beau's never forgotten the fiery-haired girl who left him high and dry.
Dixie Moore has her reasons for being angry with Beau. When a family emergency calls Dixie back to her hometown, she brings with her an explosive secret that could divide them for good—if the culprit behind a recent crime spree doesn't get her first. It's up to Beau to unmask this dangerous criminal…and keep Dixie out of the crosshairs.
Purchase Links:
Excerpt:
Dixie had taken Scott to see the local doctor. Scott had sustained a broken nose and had also fractured two bones in his right hand when his fist impacted the pavement instead of Beau's face.
Now, Scott looked almost comic, with his right hand in a cast and the entire arm immobilized in a sling to remind him not to use it. He also had rolled up gauze stuffed in his nasal cavities and both eyes were turning black with bruising. In all, he looked like a petulant walrus with his two gauze tusks. 
"Whatever were you thinking?" Dixie glanced over at Scott as he slouched in the passenger seat of her burgundy SUV "I could have told you Beau would whip your ass."
"You know why," Scott said. Due to the gauze up his nose, he was mouth breathing, and his voice was raspy and nasal.
Dixie figured Scott recognized Beau from the high school photos she had of him in her apartment. Somehow, she just couldn't put them away. And seeing him again was like stabbing her straight in the heart. He was even better looking as a man than he had been as a teen. His shoulders were broader and his tall, lanky teen form had filled in with a solid bank of muscle.
She swallowed hard. It was the eyes that got her. Those killer Garrett eyes. Beau's hair was a little lighter than his two older brothers but they all had those incredible blue eyes. Almost turquoise, ringed with black lashes all around.
When Scott and Beau had been fighting, she knew Scott was the underdog. Although he had greater muscle mass and was much heavier, he didn't stand a chance against Beau Garrett. And there was the fact that Scott had started the fight, so he had the element of surprise on his side. He would never think of himself as a loser…but in this match, he was far out-classed.   
Beau Garret could always whip his weight in wild cats and had done so, on occasion, while defending Dixie's honor.
She fought to control the smile threatening to break out as she recalled how valiant Beau had been. Always her hero. Well, almost always…
And now she had her friend Scott trying to defend her honor against her former hero. How sad is that? She glanced over at her sullen protector and reached out to give him a pat on the arm.
"You're sweet, you know?"
"I'm a dumb-ass, apparently." Scott placed his good hand on top of hers. "But, I love you, you know?"
"I know. Love you too, You're my best friend in the whole, wide world."
He nodded. "I don't know what I would do without you, and Roger, of course."
Dixie smiled at the mention of Scott's lover and soon-to-be groom. "I'll have to thank him for letting you come with me. I don't think I could face this ordeal without you."
"I'm always here for you. It's terrible that your father was murdered." He shook his head. "This little town doesn't exactly look like a hot bed of crime."
She pressed her lips together, strengthening her resolve to tie up loose ends as fast as possible and try not to get caught up in whatever happened to Vernon Moore. She couldn't imagine her mild-mannered father getting involved in anything that would get him killed. But then again, maybe she didn't know him at all anymore. She had been gone a long time. "Yeah," she intoned. "I'm sure the sheriff will deal with it."
He wagged his head from side to side, the tusks making a wide arc. "I don't understand," he said. "I can take anybody at the gym. I was on the boxing team in college. How come this punk cowboy can chew me up and spit me out?"
"Don't feel bad," she said. "He's no punk. That cowboy works hard every day. He's just one big muscle. And if memory serves, just the mention of a fight and all the Garretts would jump in." Shaking her head, she let out a chortle. "It wasn't the same kind of fight as in a gym with a referee. Those Garrett boys knew how to fight."
Scott made a guttural noise in the back of his throat. "One of them still does."
Dark Horse Cowboys series:
Do or Die Cowboy (Book 1)
Hot Target Cowboy (Book 2)
Full Throttle Cowboy (Book 3)
Praise for Do or Die Cowboy:
"[A] cowboy love story that is guarantee melt your heart romance."—Romancing the Book

"If you're in the mood for a cowboy romance with a touch of mystery, then you'd enjoy Do or Die Cowboy."—Keeper Bookshelf

"[A] very entertaining story."—Harlequin Junkie
Author Website: https://www.junefaver.com/
Rafflecopter Giveaway: