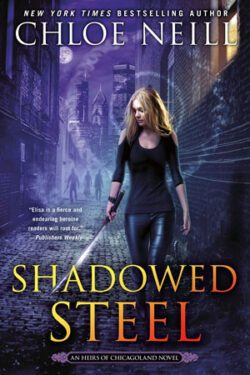 Author

Chloe Neill

Release Date

May 4, 2021

Publisher

Berkley

ISBN/ASIN

9780593102626

Our Rating

Reviewed by

SJ
Our Review
SHADOWED STEEL is the third book in the Heirs of Chicagoland series, starring born vampire Elisa Sullivan and her crew of fun friends. This story continues on from events which occurred in the last book, WICKED HOUR, but can be read as a standalone. Still, you'll get more enjoyment if you read the books in order. (see below for order)

As a result of saving the life of a human due to a pack fracas, Elisa changed a human into a vampire. Apparently, the Assembly of American Masters (AAM) takes umbrage with that and demands Elisa account for her actions. She must either swear allegiance to a house or submit to testing by the AAM.
But Elisa chooses option C—none of the above. She can't join another house or submit to any testing that will show she's much more than a normal vampire. Elisa has a monster that lives buried inside her, one that allowed for her to be born in the first place. But refusing the AAM has dire consequences. Blamed for a vampire's suspicious death, she's put on administrative leave from her job while being continually hunted by the AAM.
It'll take all the help from her friends, coworkers, and her boyfriend, Connor, werewolf and son of the pack Apex (leader), to survive.
SHADOWED STEEL is a highly entertaining paranormal romance which further develops Elisa. Packed with action, romance, and an intriguing plot, SHADOWED STEEL is not to be missed! The furthered relationship between Elisa and Connor is delightful, and Elisa's growth continues to intrigue. I can't wait to see her and her "inner monster" working together again. Watching her come into her own makes the book so much fun. I couldn't put it down and read the story from first page to last in one sitting. A real keeper!
Recommended Read
Heirs of Chicagoland books: