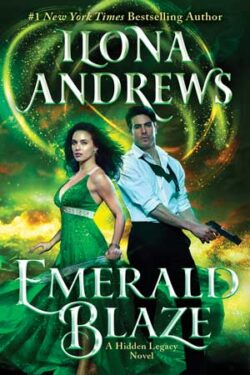 Author

Ilona Andrews

Release Date

August 25, 2020

Publisher

Avon

ISBN/ASIN

B081ZGKN7H

Our Rating

Reviewed by

SJ
Our Review
There's a reason Ilona Andrews has been a #1 New York Times bestselling author. This writing duo is at the top of their game with the next installment of the Hidden Legacy series. EMERALD BLAZE is a dynamite adventure filled with romance, ever-evolving characters, humor, and some incredible world-building that just keeps getting better. New readers should start with SAPPHIRE FLAMES (the first of Catalina's books,) or for a full read, go back to the very beginning with BURN FOR ME (Nevada's start.)
The last book left off with Catalina Baylor, the Prime of House Baylor and head of the Baylor Investigation Agency, dealing with assassins and her not-so-secret crush, Alessandro Sagredo, a powerful prime in his own right. This book takes off with a bang, as Catalina and her crew try to rescue a little girl's companion animal  (a monkey) and run into an otherworldly creature that nearly kills them.
Brought in to investigate on a new case, Catalina is forced to work with Alessandro again. It's been six months since she's last seen him, and in that time, they both have changed. Catalina is not so starry-eyed about him, and Alessandro has experienced some real trauma. 
But with the addition of the ever-entertaining Baylor family, some new relationships, a shadowy web wielded by Catalina's not-so-nice grandmother, still in prison, and a mysterious death that's so convoluted yet well-crafted, you really can't guess whodunnit until the end, EMERALD BLAZE makes for one incredible literary ride. 
I couldn't put the book down, reading it all in one adrenaline-fueled sitting. As a die-hard fan, I must ask for more Leon. Catalina's cousin is funny and mouthy, and the pages zing when he's on them. But then, that can be said for everyone Ilona Andrews writes about. The authors have a head for character, and those characters push the story into greatness. And I'm still dying to read about Arabella more, at some point. I could go on, but you should just know that the HIDDEN LEGACY series is a must for paranormal romance and urban fantasy fans. It's got the perfect blend of romance, mystery, adventure, and the paranormal.
A SUPER RECOMMENDED READ!!! 
Hidden Legacy Series
Burn for Me
Emerald Blaze